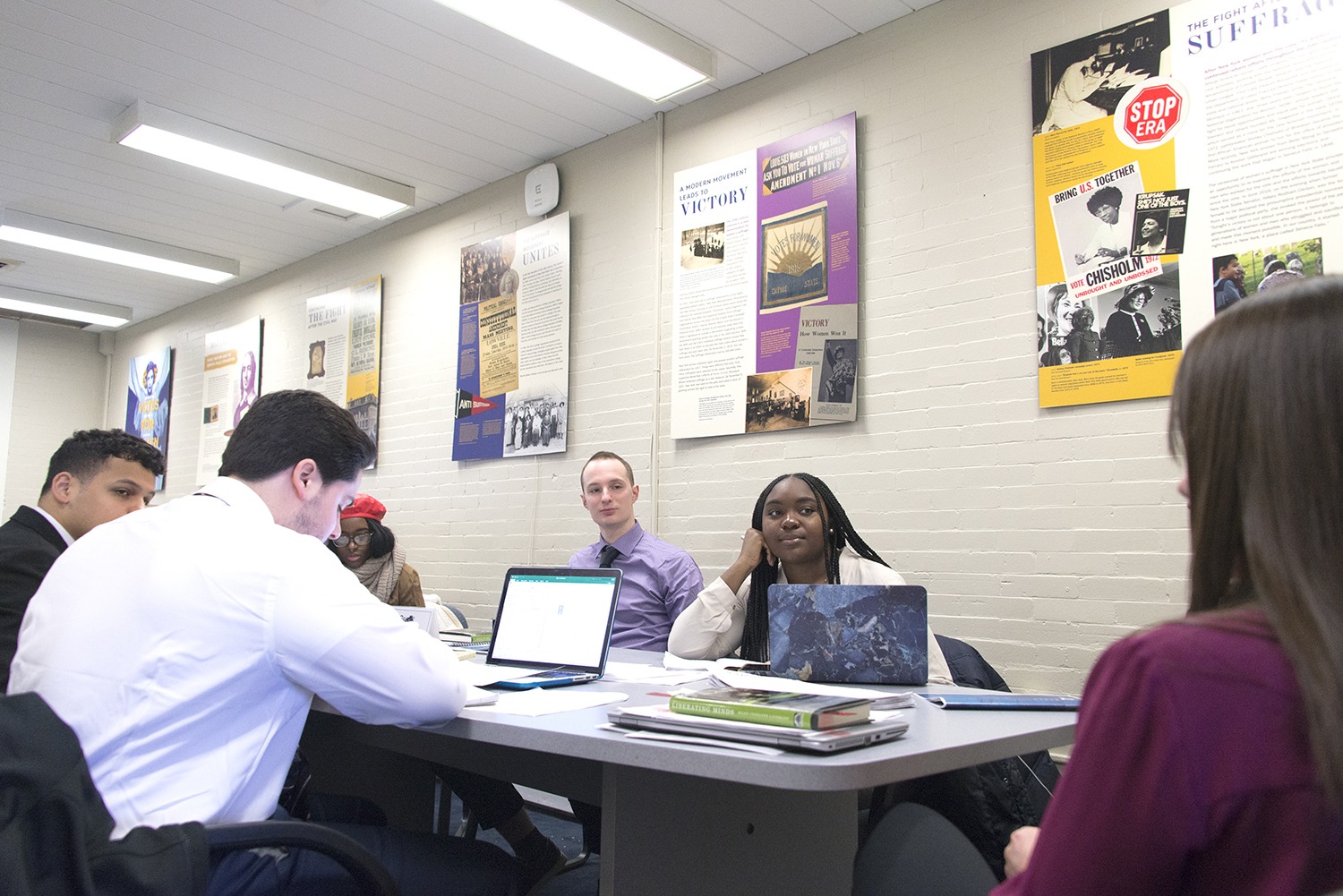 Through internships for students at the University at Albany, SUNY Empire State College, and Hudson Valley Community College, the Center for Law & Policy Solutions introduces students to the politics of law and policymaking and, more broadly, helps them understand the effect government can have on people's lives.
Now Accepting Applications for Spring 2024
---
We are now accepting applications from undergraduate students enrolled for the spring semester at participating schools—University at Albany, SUNY Empire State College, and Hudson Valley Community College—that are interested in pursuing work in public policy research and practice. Click here for more information on the internship application. The interns selected for the spring will focus their research on early childhood education and childcare policy.
This internship is a credit-bearing and paid internship for students who are enrolled full-time at their respective institution. Interns are paid $15.00/hour for ten hours a week for 15 weeks. Once applications are reviewed and placements for the program are offered/accepted students must register for the appropriate course at their institution and have paid the required tuition fees in order to receive credit for the internship. The application deadline is Thursday, November 9, 2023. Please send an email to [email protected] with the following materials (all in one email):
Your resume.
A cover letter regarding your interest, skillset, and relevant experience or goals with regard to the program.
Contact information for 2-3 professional or academic references (include email contact). A reference letter is not required.
A copy of your transcript (unofficial copies are accepted, but official copies may be requested at a later date).
A sample of your written academic work. The sample should be 2-3 pages in length; it may be an excerpt from a class paper. Please add a 1-2 line description at the top of what paper or section of a paper and class it is from.
To apply (or if you have any further questions), please contact [email protected].
About the CLPS Internship Program
---
The Center for Law & Policy Solutions (CLPS) Internship Program is designed to give students hands-on/virtual exposure to policy analysis and advocacy, including research. The internship consists of: (1) a placement at the Center for Law & Policy Solutions; (2) a series of professional development workshops and trainings; and (3) networking opportunities with CLPS policy experts and legal professionals, as well as community leaders. Interns will work closely with the CLPS internship program director to collect and analyze data and write research deliverables such as blogs and policy briefs. General findings will be presented at a policy webinar sponsored by the Rockefeller Institute of Government.
Prior Research Topics
---
Spring 2023: Help Wanted: State Legislative Proposals for the Homecare Workforce
Fall 2022: State-Level Universal Pre-Kindergarten Programs
Spring 2022: Green Infrastructure: Case Studies and Analysis
Fall 2021: Digital Communication of COVID-19 Resources in Rural Upstate New York
Spring 2021: The Precedents and Potential of State Green Amendments
Fall 2019: How Student Loan Debt Influences College and Career Decisions
Spring 2019: Prisoner Education Programs in New York State
Fall 2018: Beyond Roe: Sexual and Reproductive Healthcare in New York State
Spring 2018: An Analysis of Drug Treatment Courts in New York State
Sponsorship Opportunities
---
Sponsor an Undergraduate Intern
$2,500
Sponsor a Law Intern
$5,000
Sponsor a Cohort
$10,000