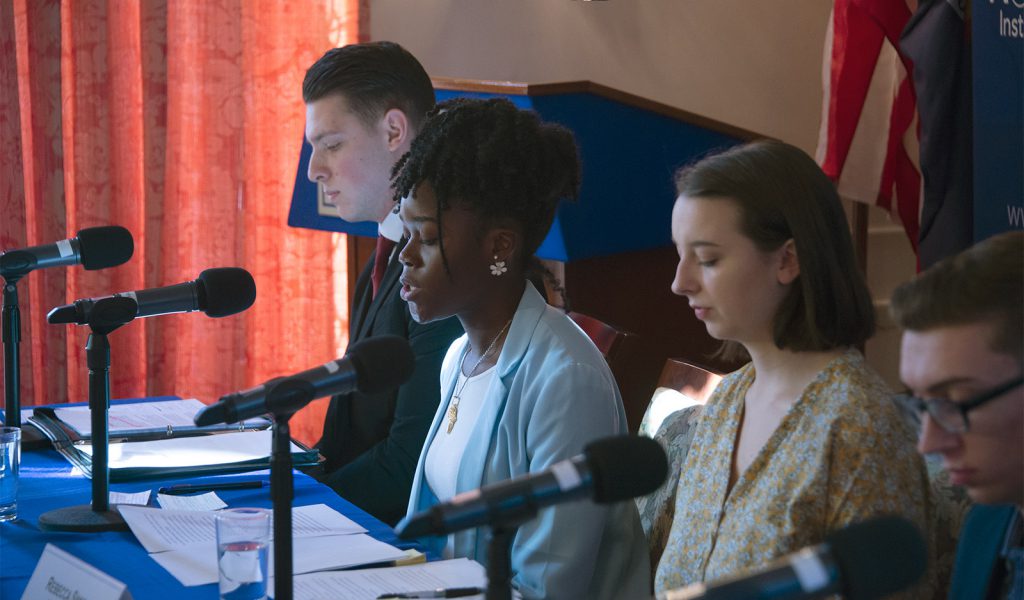 Future Leaders in Policy Competition
Students across the State University of New York (SUNY) are engaging in research that addresses important social challenges, including inequity, climate change, criminal justice reform, and public health. As New York State leaders tackle these issues, it is important to identify innovative ideas generated by those who will be impacted by these policies for decades to come. The Rockefeller Institute and the SUNY are introducing the inaugural "Future Leaders in Policy" competition which will showcase the best of SUNY undergraduate and graduate research related to public policy from a range of fields, including unemployment, emergency housing, mental healthcare, child care, and renewable energy. Participants will have opportunities for professional skills development and networking.
The "Future Leaders in Policy" competition will culminate in a virtual event held on April 16, 2021. Finalists will each prepare a 10-minute presentation of their research followed by a five-minute Q&A with a panel of "judges" made up of leaders in New York State government. Judges will select three winners who will be invited to develop their work for publication by the Rockefeller Institute. Upon publication approval of their final research, researchers/teams will be awarded a prize of $500.
Applying *** We are no longer accepting applications.
Who should apply?
Undergraduate (two- or four-year programs) and graduate students currently enrolled in SUNY institutions are invited to submit applications for the competition. Teams of students may apply but all team members must be enrolled in a SUNY institution.
The submission of research by each individual/team must be sponsored by a faculty project advisor who agrees to support and advise the team as needed.
Topics of Interest
The underlying goal of the Rockefeller Institute's work is to conduct rigorous research relevant to the policy community and general public. Recent research from the Institute has explored a wide range of topics, including climate change, environmental health, gun violence, the gig economy, marijuana legalization, workforce development, healthcare, college access and affordability, K-12 education, restorative justice, broadband access, COVID-19 response, tax policy, and the opioid and overdose crisis. Research and policy analysis on all topics relevant to state and local leaders is welcome.
Nature of Research
This contest will recognize high-quality research products, such as capstone projects, senior or honor's theses, independent studies, and graduate research. We also encourage applications that highlight and evaluate innovative applied policy projects developed by students as part of internships, co-ops, and volunteer or professional experiences. All work of value to policymakers will be considered.
Any questions about the application process can be directed to [email protected].
Evaluation Criteria
Applications will be evaluated based on:
rigor of the research project;
effective communication of the project and its relevance; and
relevance to New York's state and local policymakers.
Competition
After a review process, invitations to participate in the Future Leaders in Policy competition will be sent to selected applicants by March 8. Students will be given an opportunity to participate in virtual presentation training sessions in March and April (dates to be determined) before presenting their final research to a panel of judges on April 16, 2021.
Professional Development Opportunities
The training sessions hosted by the Rockefeller Institute are designed to help students prepare the most effective presentation possible. Students will receive guidance from experts on effective communication with policymakers and the general public.
Final Competition
The finals will take place on April 16, 2021. Finalists will each prepare a 10-minute presentation of their research followed by a five-minute Q&A with a panel of "judges" made up of leaders in New York State government.
Questions should be directed to: [email protected].