The goal of our AI:NY series is to examine how automation will change New York's labor force in the near future as artificial intelligence is integrated into the workplace. In our first piece, Mankind versus Machines?, we found that 53 percent of jobs in New York could be automated with technology available today or anticipated in the near future. However, it's not that jobs will simply disappear; instead, job growth will continue to increase, but the nature of the available jobs is likely to change dramatically.
In this analysis we explore how new technologies are changing the nature of jobs in the electric utility sector and how the sector is adapting to reflect those changes. The New York Power Authority (NYPA), the state's public power provider signed into law by then-Governor Franklin Roosevelt, is at the forefront of integrating automation and artificial intelligence into power generation and distribution. NYPA is the largest public power organization in the US, managing 16 power-generating facilities and 1,475 circuit miles of New York's 11,163 high-voltage transmission lines. The public utility has been at the forefront of incorporating digitization, AI, and automation to maintain this critical infrastructure — all while working to protect their existing electrical power line workforce.
Electrical power line workers are responsible for installing, maintaining, and repairing cables and wires in power distribution systems. It is a dangerous job. In 2017, the profession experienced 26 fatal work injuries, ranking it the tenth most fatal job in the US. The tasks associated with the job include driving, pole climbing, and equipment testing and repair. Utility line workers must respond quickly, often in treacherous weather, to a variety of scenarios identified by only visual inspection.
It is a dangerous job. In 2017, the profession experienced 26 fatal work injuries, ranking it the tenth most fatal job in the US.
That is why NYPA and other utilities are exploring the adoption of unmanned aircraft systems (UAS) — a.k.a. drones — as part of their workforce of existing electrical power line repairers and installers. In 2018, NYPA launched a pilot program to explore how drones can be used by utility workers to assist in the inspection of infrastructure. The goal of the pilot program was to identify applications for the drones and develop the policies and procedures required for a more widespread adoption of the technology. When the program was launched, NYPA primarily sought applications in which the drones could improve transmission worker safety while also considering improvements in convenience and cost savings.
The project started with two drones and five pilots and has grown to 12 drones and 13 pilots. The drones are outfitted with video and photo, infrared for the detection of hot spots, and soon will integrate equipment for the generation of 3-D images.
I recently spoke with managers involved with the launch of NYPA's drone program to identify the lessons learned in the first year of the pilot and to learn more about the future of drones at NYPA.
1. NYPA has found a wide range of applications for drones that make utility workers safer, better informed, and more efficient.
Worker inspections of towers require a dangerous climb and an interruption of service because the structure must first be de-energized. Aerial inspections have traditionally been performed using helicopters to get higher altitude views. Both scenarios increase the risk to the employee. Drones equipped with cameras can get real-time information while the workers stay on the ground. The data collected lets workers determine if a climb is necessary and helps them better prepare for the scenario they need to address. As a result, workers spend less time on the structure and service interruptions are shortened, leading to safer working conditions and greater efficiency.
2. It was key to have labor at the table throughout the course of the development and implementation of the pilot program.
NYPA's utility workers are represented by the International Brotherhood of Electrical Workers (IBEW) and the union has been a critical partner even at the earliest stages. Managers note that the IBEW is supportive of initiatives and new technologies that help members do their jobs better. Therefore, NYPA found a wide range of potential applications for the technology and a workforce excited to use the information collected from these aerial inspections to improve the safety and efficiency of their jobs.
3. It is critical to create an institutional culture of continuous learning by providing upskilling opportunities, such as training line workers as commercial drone pilots.
Ultimately, NYPA doesn't see the UAS technology replacing workers. It will instead provide an opportunity for upskilling workers based on business needs. As New York Labor Commissioner Roberta Reardon said at the recent AI forum at the Rockefeller Institute, upskilling of workers is critical to any successful transition to more automated technology. They believe that the new technology will not replace them, but will ultimately be a powerful tool to help them better perform their jobs. In order to do that though, they need the tools and training to transition.
Ultimately, NYPA doesn't see the UAS technology replacing workers. It will instead provide an opportunity for upskilling workers based on business needs.
NYPA workers are accustomed to the idea of learning and using new tools, an important institutional culture that needs to be present in any successful transition. For example, transmission workers now use smartphones to take pictures and log data from their inspections. The integration of drones into this toolbox is a more complicated undertaking. Commercial UAS operators require a certificate from the Federal Aviation Administration (14 CFF Part 107). NYPA looked in-house for employees with experience in utility operations and an enthusiasm for aviation. Five of the first 13 drone pilots are NYPA employees with private pilot's licenses. These workers already had fundamental aviation knowledge, meaning they had overcome a significant barrier to acquiring a drone pilot's license. Workers without a private pilot's license worked with an outside partner to complete an average of 30 hours of preparation time to pass the required FAA exam. Operator licensure must be maintained with additional training and logging of flight hours. NYPA envisions an expansion of the program in coming years based on business need and use cases.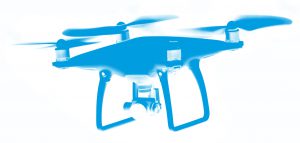 WHAT ARE DRONES?
---
After several years of use by the military, drone technology has advanced and the costs have fallen, leading to increased availability. Now many companies are seeking commercial applications. In a 2016 report, PwC (the international arm of Price Waterhouse Coopers) forecasted that the commercial drone market would reach $127 billion and valued the potential market in the power and utilities sector at $9.46 billion.
Central New York has become a hub for commercial drone development. In 2015, the NUAIR Alliance created a 50-mile drone testing corridor in Rome, NY centered at Griffiss Airport. Commercial drone developers are using the corridor to test hardware in airspace that is shared with manned aircraft. The data collected will assist the FAA in creating regulations that will enable a commercial drone industry. New York State has also offered commercialization support through the first Drone Business Plan Competition in the US and attracted six emerging drone companies to Central NY to establish their operations.
Proximity to the drone hub has made it easier for NYPA to be an early adopter of commercial drone systems. NYPA's emerging drone operations have been headquartered in Marcy, NY, less than 10 miles from the drone testing corridor. NYPA has partnered with NUAIR to enable the deployment of its pilot project.
NYPA's Next Steps
According to NYPA, the early stage of the pilot program has been successful. NYPA says it's too early to quantify the potential impacts such as reductions in workplace accidents, service interruptions, and cost savings, but preliminary results suggest that these impacts can be realized. One of the challenges moving forward will be figuring out how to handle the massive amounts of data being captured by the fleet of drones. Each flight collects thousands of frames of photos and video. NYPA and other utilities are partnering with the Electric Power Research Institute to develop AI capabilities for the analysis of the data collected through drones and other tools.
In addition to the launch of the pilot for line workers, other applications have been suggested by NYPA employees in all divisions, at all levels. Drones have been used by the power generation teams to perform visual inspections of assets such as dams. Construction teams have used drones to take before-and-after imaging to minimize disruptions on projects. One positive and unexpected outcome was the increase in collaboration across different groups in the authority. The excitement for the new technology and quality of its imaging has brought a culture change as groups work together to explore the possibilities.
During the winter of 2019 NYPA used drones to inspect the Niagara Ice Boom. The boom regulates the flow of ice down the Niagara River in order to maintain water flow and prevent damage to NYPA's hydro-electric infrastructure. Inspection of the boom has traditionally been done exclusively by boats in dangerous winter conditions. This year, the boat inspections were complemented by NYPA drones for close-up aerial inspections. The aerial inspections were safer, more expansive, and faster than the boat inspections. Knowing the conditions, boats were then loaded with the equipment to make repairs and deployed to the required sections. Risks were minimized, repairs were performed more efficiently, and less time was spent on winter water conditions.
Overall, NYPA demonstrates many of the best practices suggested by experts in AI and automation. NYPA's use of drones has enhanced its existing workforce, not replaced it. It has identified skills required to adopt drone technologies and provided training for current employees interested in upskilling. It has partnered with the resources within NY to enable the adoption of a productivity enhancing technology.
NOTES
Thank you to Dan Herrmann, Regional Manager, and Kedaar Raman, Program Manager for sharing their experiences on the NYPA Drone Initiative.
Feature photo: New York Power Authority President & CEO Gil Quiniones discusses AI and automation with Rockefeller Institute researchers during a recent visit to NYPA headquarters.
ABOUT THE AUTHOR
Laura Schultz is senior economist and director of fiscal analysis at the Rockefeller Institute of Government


AI:NY
---
Does New York have the workforce required to lead the development of this emerging sector? What can New York do to prepare itself to take advantage of the growth and opportunity created by AI?
Fifty-three percent of jobs in New York could be automated with technology available today or anticipated in the near future, while 56 percent of workers across the US face threats from automation.
SUNY's Office of Research and Economic Development and the Rockefeller Institute of Government gathered experts from industry, government, and academia to discuss New York's role in the development and adoption of artificial intelligence (AI). We offer six takeaways.
We explore how new technologies are changing the nature of jobs in the electric utility sector and how the sector is adapting to reflect those changes with a case study from the New York Power Authority.