Higher education is often touted as a gateway to living a better life. Having a college degree opens the door to many careers that offer a higher salary and increased job security, as well as providing better benefits. Although college is not the only path to success, earning a postsecondary degree does put a person in a better financial position over time — a 2015 study by the Georgetown University Center on Education and the Workforce found that the difference between the lifetime wages of college and high school graduates is one million dollars. Moreover, completing college also increases access to employment — by 2020, 65 percent of all jobs in the economy are expected to require postsecondary education and training beyond high school.
Despite the economic necessity of obtaining a college degree, the cost of higher education continues to rise. After adjusting for inflation, a report by the nonprofit College Board found that between 2011-12 and 2016-17 published tuition and fee prices rose 9 percent in the public four-year sector; by 11 percent at public two-year colleges; and by 13 percent at private nonprofit four-year institutions. Many states have adopted laws and programs to address college affordability, like free tuition programs in Tennessee and New York. Even though financial aid programs and scholarships can help soften the blow of college costs, many students depend on student loans to help finance their college education across the nation. This results in many students leaving higher education not only with a degree, but also with a mountain of student loan debt.
To make matters worse, proposed federal budget cuts could deepen the student loan crisis. In May, President Trump proposed sunsetting the Perkins Loan program, ending the subsidized Stafford Loans program, and eliminating the Public Service Loan Forgiveness program.
Student loan debt is second only to mortgage debt in the United States, accounting for 10 percent of the total debt balance; and totaling over $1.4 trillion. According to a live tracker on MarketWatch, student loan debt is increasing at a rate of $2,726 per second. Between 2004 to 2014, there was a nearly 90 percent increase in the number of student loan borrowers, half of whom are under the age of twenty-five. Nearly fourty-four million Americans are burdened by some amount of student loan debt; the average Class of 2016 graduate owes approximately $37,000 with an average monthly loan payment of approximately $350.
People are struggling to keep up with their student loan payments, with 11.2 percent of all student loan debt ninety or more days delinquent or in default in the fourth quarter of 2016, surpassing credit card loans (7 percent) and auto loans (4 percent). A survey by Bankrate.com found that 56 percent of people eighteen to twenty-nine years old have put off life events like getting married, purchasing a car or home, or saving for retirement because of student debt, which impacts not only the financial lives of the debtors, but the economy as a whole.
Percentage of Debt More than 90 Days Late or in Default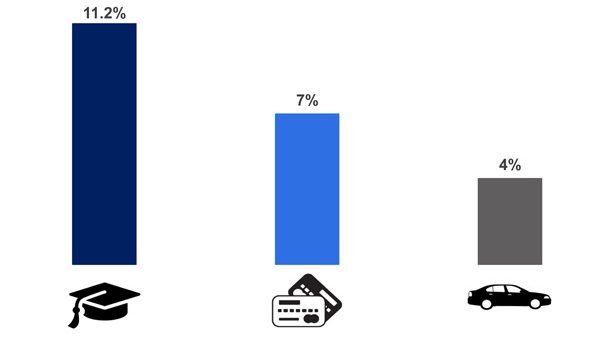 Source: Federal Reserve Bank of New York
The student loan industry also suffers from a poor track record of customer service for borrowers, who rely on companies to manage all aspects of loan repayment. From September 1, 2016, to August 31, 2017, the Consumer Financial Protection Bureau handled approximately 12,900 federal student loan servicing complaints, 7,700 private student loan complaints, and approximately 2,300 debt collection complaints related to private or federal student loan debt. This issue has been further exacerbated by the decision of US Secretary of Education Betsy DeVos to roll back federal provisions that protected borrowers by holding companies accountable for bad service and failing to help borrowers find more affordable ways to repay their loans. For example, the federal Department of Education now blocks protections against high fees to those borrowers who defaulted on their student loans.
In the last few years, more and more states have passed legislation to try and address the student loan debt crisis. In 2015, Connecticut became the first state to pass a borrower's bill of rights that established a student loan ombudsman in the Connecticut Department of Banking and an educational financial literacy course for college students. The law also required that student loan servicers be licensed by the state banking department and prohibited them from defrauding or misleading borrowers. The Connecticut law has served as a model for legislation that has been introduced in states like Illinois, Maine, Massachusetts, Minnesota, Missouri, New Mexico, and Washington.
Other states have gotten involved with assisting residents in paying back their student loans. In 2016, New York announced the "Get on Your Feet" student loan forgiveness program, which pays up to two years of federal student loan bills for qualified applicants. Meanwhile, legislation in New Jersey directs the Higher Education Student Assistance Authority to forgive certain student loans in the event of student borrower's death or total and permanent disability and grant deferment for temporary total disability. Maryland established matching state contributions to eligible college savings accounts and created a refundable tax credit. California's proposed ReLIEF Act would help borrowers refinance their private student loans. The Rhode Island Student Loan Authority has the power to issue bonds and buy and invest in its own bonds and notes for the purposes of student debt consolidation.
Other states have focused on making sure that borrowers are educated about their decisions. Indiana requires higher education institutions to annually provide students with estimated amounts for incurred student loans, potential total payoff amount after interest, and monthly repayments; Nebraska's public colleges and universities are required to provide students with detailed annual reports on their projected student loan debt; Washington legislation requires that students receive information on the total amount of educational loans and the range of payoff amounts including principal and interest. Michigan initiated a student loan delinquency counseling pilot program to help residents currently delinquent on their federal student loans.
While it is too early to determine what impact, if any, these various state regulations have on the issue of student loan debt, the Rockefeller Institute is planning to study the implementation of these programs to assess best practices. The student loan debt problem shows no sign of slowing down and more states are likely to pass legislation as debts continue to mount.
A Snapshot of Recent State Laws and Proposed Legislation Addressing the Student Loan Crisis: