Last Thursday night, President Trump showed his cards when he tweeted that he would cease Cost Sharing Reduction (CSR) subsidies to insurance companies that lower copayments and deductibles for qualifying low-income enrollees, which had been made on a monthly basis up until this point. His decision was widely criticized by Democratic and Republican politicians alike. Governor Andrew Cuomo confirmed New York would be one of eighteen states suing to force the federal government to make these payments,[1] while Senator Susan Collins of Maine (R-ME) said she believed Trump was hurting Americans by ending the payments.[2] What does it mean to end CSR payments? And what can they tell us about the future of American healthcare?
In April and August, I wrote that President Trump would soon "show his cards" in his approach to the implementation of the Patient Protection and Affordable Care Act (ACA). How he deals with CSR payments would indicate his approach after the failure of numerous attempts to repeal and replace the ACA. Continuing to make these payments would have shown a good faith effort to implement the law. But that didn't happen.
The president referred to CSR payments as "bailouts" for insurance companies, but this is not true. CSRs seek to ensure access to healthcare by charging qualifying enrollees in marketplace plans lower copayments and deductibles. In the first instance, insurance companies pay these amounts to doctors and hospitals; the federal government makes the companies whole through the CSR payments that had been made up until this point. The actual CSR payments made by the federal government are subject to a rigorous reconciliation process that requires insurance companies verify these costs were actually incurred. To suggest these payments represent a bailout is simply not true.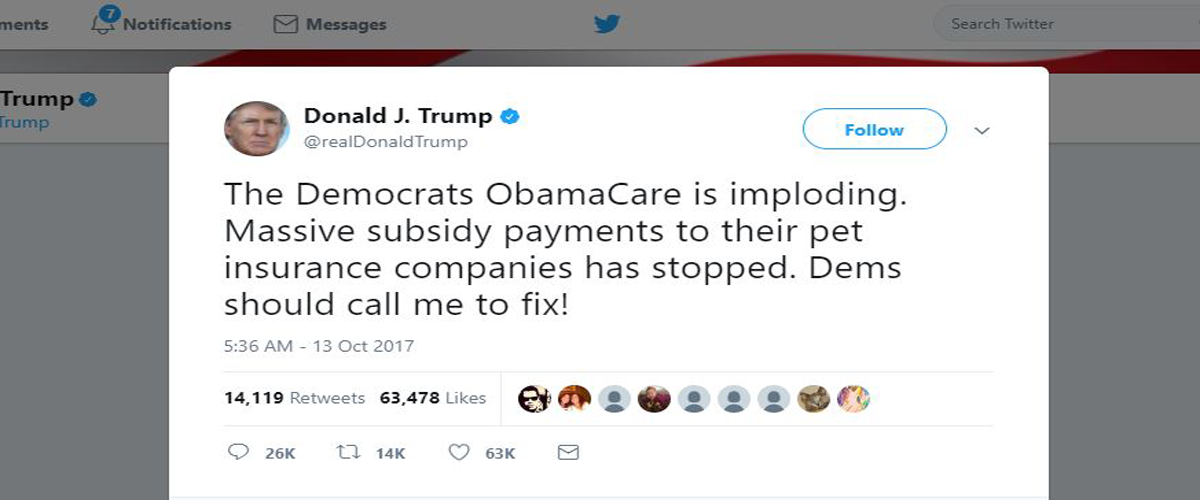 By halting these payments, the president showed his intent to sabotage the individual marketplaces that are a cornerstone of ACA. His former chief strategist, Steve Bannon, confirmed this, saying that by ending the payments, Trump was going to "blow those exchanges up."[3] The timing of this announcement is another indication of the president's intent. Although the circumstances of this issue have not changed in months, the president waited until just weeks before the beginning of the ACA Open Enrollment period on November 1st to maximize disruption and confusion in the marketplaces.
Insurance companies will still be required to make these payments to doctors and hospitals to lower copayments and deductibles for qualifying enrollees. The only difference is that the federal government now will not make these reimbursement payments to make the companies whole. To account for these lost funds, the companies will increase enrollee premium rates. As I explained in August, the Congressional Budget Office has estimated the federal deficit will grow by nearly $200 billion over a ten year period because of these premium increases. This growth in the deficit is fueled by an increase in the ACA's Advanced Premium Tax Credits (APTCs), which are upfront reduction in premium for lower-income enrollees. For lower-income enrollees, the APTCs will cover the premium increase. However, for middle-class enrollees who do not qualify for APTCs, the president's action will result in higher out-of-pocket premium costs.
The impact of ending the CSR payments in New York is a little murkier than in most other states. New York is one of only two states that implemented an ACA provision known as a Basic Health Plan. New York's plan, known as the Essential Plan, began in January 2016 and now covers 682,200 New Yorkers.[4] The Essential Plan is open to New Yorkers who are not eligible for Medicaid or the Children's Health Insurance Program at a monthly premium of $0 or $20, depending on income.[5] The federal government is the main financial backer of this program, accounting for 85 percent of Essential Plan spending in state Fiscal Year 2016-17. In addition, the Essential Plan created $635 million in savings in the state Medicaid budget for the same year.[6] The formula used by the federal government is directly tied to CSRs, so ending CSR payments could jeopardize critical funding for this plan as well. Under the provisions of the Essential Plan, the federal government provides New York State an amount equal to 95 percent of the APTCs and CSR payments that Essential Plan enrollees would have been eligible to receive if they had enrolled in qualifying health plans through the marketplace.
At this point, the federal government has not clarified how the decision to end CSR payments will impact Essential Plan funding. It is certain, though, that any disruption to this funding stream would create a significant negative impact on the New York State budget. Covering any lost federal funding would result in increased state spending, higher out-of-pocket costs for Essential Plan enrollees, or a combination of those options.
Earlier this week, a bipartisan group of senators, led by Senators Lamar Alexander (R-TN) and Patty Murray (D-WA), announced agreement on a bipartisan deal to stabilize the ACA marketplaces that included funding of the CSR payments through 2019.[7] It remains to be seen, however, whether this framework will be passed by the Senate and House of Representatives or if the president would sign such a bill. For now, the president has chosen to withhold these payments. Nationally, this will increase enrollee premiums and expand the federal deficit. In New York, this will jeopardize the state's Essential Plan covering 682,200 New Yorkers and threaten to place additional strain on the state budget.
[1] "Statement from Governor Andrew M. Cuomo on President Trump's Decision to End Health Care Cost-Sharing Subsidies," Office of Governor Andrew M Cuomo, October 13, 2017, http://www.governor.ny.gov/news/statement-governor-andrew-m-cuomo-president-trumps-decision-end-health-care-cost-sharing.
[2] "Collins: Trump's health care moves hurt people," State of the Union with Jake Tapper, CNN, October 15, 2017, http://www.cnn.com/videos/politics/2017/10/15/susan-collins-trump-health-care-sot-sotu.cnn .
[3] Ian Millhiser, "Steve Bannon admits Trump is intentionally trying to 'blow up' health insurance markets," ThinkProgress, October 15, 2017, https://thinkprogress.org/steve-bannon-admits-trump-is-intentionally-trying-to-blow-up-health-insurance-markets-92e1cef12707/.
[4] James T. Mulder, "Trump's health subsidy cut could kill coverage for 682,800 New Yorkers," NewYorkUpstate.com, October 13, 2017, http://www.newyorkupstate.com/news/2017/10/trumps_health_subsidy_cut_could_kill_coverage_for_682800_new_yorkers.html.
[5] Essential Plan: New York's Basic Health Plan — Annual Report to the Governor and Legislature (Albany: NYS Department of Health, December 2016), https://www.health.ny.gov/health_care/managed_care/essential/docs/2016_basic_health_program.pdf .
[6] Ibid.
[7] Thomas Kaplan and Robert Pear, "2 Senators Strike Deal on Health Subsidies that Trump Cut Off," October 17, 2017, https://www.nytimes.com/2017/10/17/us/politics/alexander-murray-deal-obamacare-subsidies.html .