What is the plastic bag ban? 
Beginning March 1, 2020, any person or store in New York State that is legally required to collect sales tax will not be allowed distribute film plastic bags (excludes exempt bags outlined below) to customers. (Update: On February 28, 2020, the Department of Environmental Conservation announced they will not enforce penalties for store owners handing out single-use plastic bags until at least April 1, 2020. Stores may opt to comply before April 1, however, meaning plastic bags may not be available. Importantly, stores may still comply with the law but the DEC will not penalize stores that do not.) Film plastic bags are the single-use bags that are typically distributed at checkout and the law applies to grocery stores, retailers, chains, and the local corner store.
Customers will no longer be provided film plastic bags at checkout and will need to bring a bag from home, purchase a reusable bag, use paper bags (possibly for a fee), or carry out without any bag at all. Stores are not required to provide paper bags or have reusable bags for sale, so customers need to be prepared and bring a bag from home—or end up with their hands full.
Two weeks before the ban takes effect, the Department of Environmental Conservation issued updated regulations to clarify acceptable reusable bags. The updated law defines reusable bags as one made of washable fabric or "non-film" plastic bags. The revisions still allow for plastic bags that are at least 10 mils thick—nearly twice as thick as contractor trash bags. The updated regulations take effect March 14, 2020.
The Department of Environmental Conservation also clarified the list of exempt plastic bags, which include plastic bags used to gather bulk items, such as fruits and vegetables at grocery stores or loose screws and bolts at hardware stores, store-bought storage and trash bags, plastic bags for pharmaceutical purchases, and plastic bags to carry-out prepared food from restaurants. Other exemptions in the law allow film plastic bags used for:
Wrapping meat, seafood, or other plant items;
Prepackaged bulk sales;
Garment bags, such as dry cleaning; and
Newspaper deliveries.
For grocery shopping, this means that plastic bags can be used for apples or lettuce in the produce section, to wrap deli meat or seafood, but not to carry groceries from the store at checkout. Further, the plastic bags provided by corner stores for chips and a drink or a quick grocery run will no longer be available.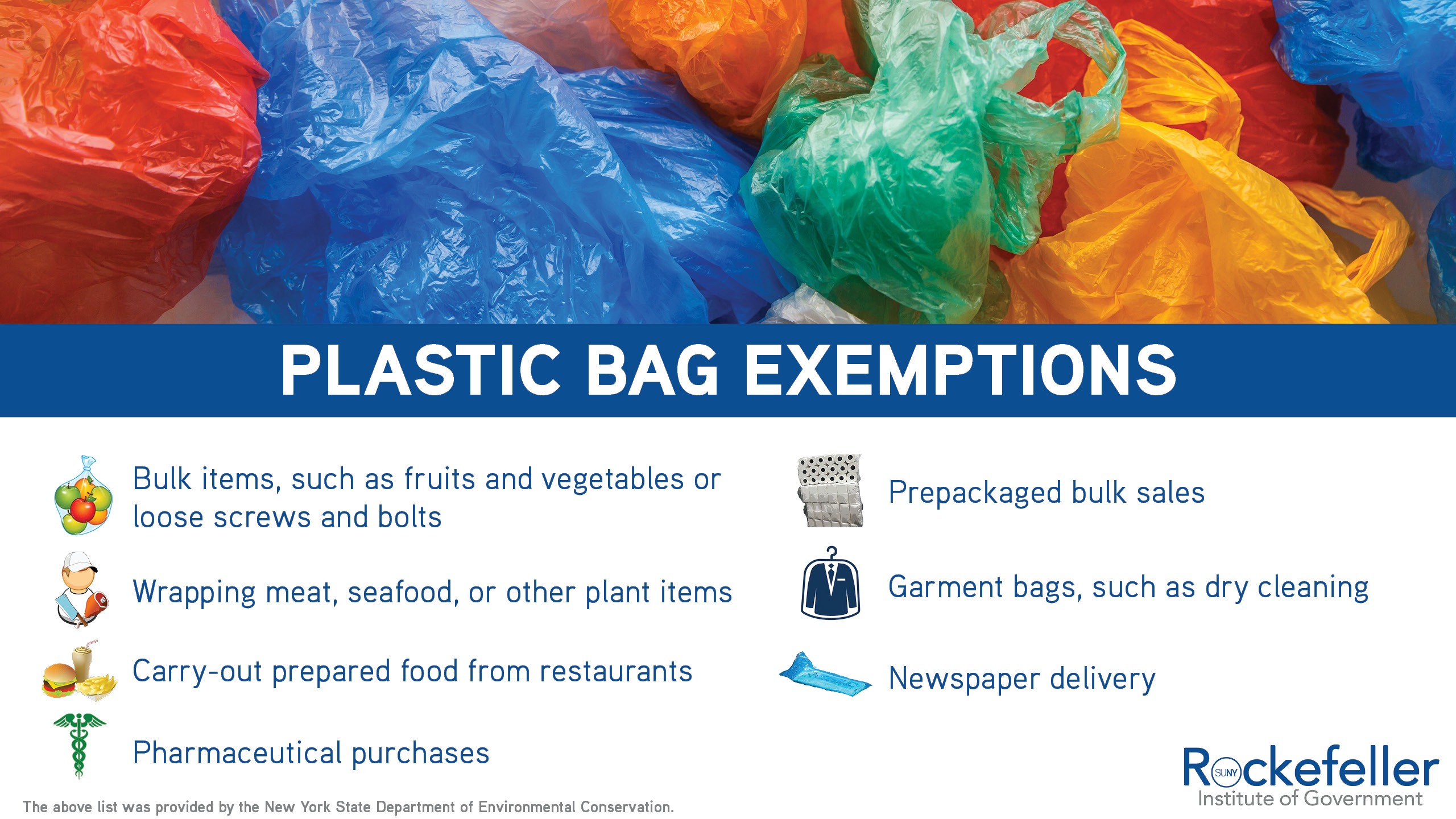 Under the new law, counties and cities are authorized to require a five-cent fee for each paper bag distributed. The revenue will go to two separate funds: one for the state's Environmental Protection Fund, as well as a fund to purchase and distribute reusable bags with priority given to low income communities. As of February 2020, three counties (Albany, Suffolk, and Tompkins),[1] and New York City have decided to impose the paper bag fee. (Correction: An earlier version of this blog mistakenly stated "four counties (Albany, Suffolk, Tompkins, and Ulster)" had decided to impose the paper bag fee under the new law. Ulster County did not impose a paper bag fee under the new law.)
Individual stores and retailers also have the option to impose a five-cent fee even if the municipality does not require it; stores have the option to keep the revenue. Prominent New York State retailers, including Price Chopper and Wegmans, have announced they will impose the paper bag fee at their stores.
Recipients of the Supplemental Nutrition Assistance Program (SNAP) and the Women, Infant, and Children (WIC) program are exempt from any additional paper bag fee, regardless if the fee is initiated by a municipality or store.
In order to further reduce plastic bag waste and litter, all stores covered under the state's 2009 Plastic Bag Reduction, Reuse and Recycling Act are required to continue accepting film plastics for recycling. Film plastics are not recycled alongside typical household recycling, such as cardboard boxes, and must be disposed of properly. These include bread bags, garment bags, shrink wrap, and more. Stores are required to have visible and accessible recycling bins so customers can easily recycle.
Why do we have a ban?
New York passed the Bag Waste Reduction Law in 2019 to help reduce plastic bags and plastic bag waste. According to the Department of Environmental Conservation, an estimated 23 billion bags are used in New York each year.
Plastic bag litter is highly visible and unpleasant; litter can accumulate quickly and pose serious threats to the environment. Litter can accumulate so rapidly because the freely distributed plastic bags take years to breakdown, and all of that litter can result in giant garbage patches in the ocean, or, leachate contamination in the the soil—both of which release microplastics and poison habitats.
In addition, film plastic bags often end up in the improper recycling facility, gumming up equipment and shutting down operations. Consumers might not know plastic bags cannot be recycled the same as other recyclables; the recycling mistake is made especially easy with single stream recycling, allowing consumers to think they can deposit all plastics into a single bin.
Plastic bags also pose environmental harm in the form of carbon dioxide emissions. Plastics are derived from fossil fuels and require a lot of energy to make. Combined with manufacturing inefficiencies and transportation costs, plastic bags (and plastics in general) have a large carbon footprint.
Do other governments have bans?
As of 2020, eight states have plastic bag bans, with California first passing a statewide ban in 2016. San Francisco was the first city to ban plastic bags in 2007 and there have been more than 650 similar municipal laws. Not all laws are complete bans. Some are combinations of specific requirements on plastic bag production to reduce the use of plastic bags, implementing fees to discourage over-consumption, and requirements for recycling station for plastic bags.
Using plastic bag legislation trackers (compiled by packaging and plastic bag production companies) the median enactment year for municipal laws is 2017, while the median year for enactment of state laws is 2019. There were approximately 192 laws already in effect by 2015, the year before California enacted its ban.
In response to municipal plastic bag laws, some states have passed laws that limit or prohibit municipalities' ability to legislate plastic bags. There are currently 15 states with preemption statutes, and several others with similar bills under consideration.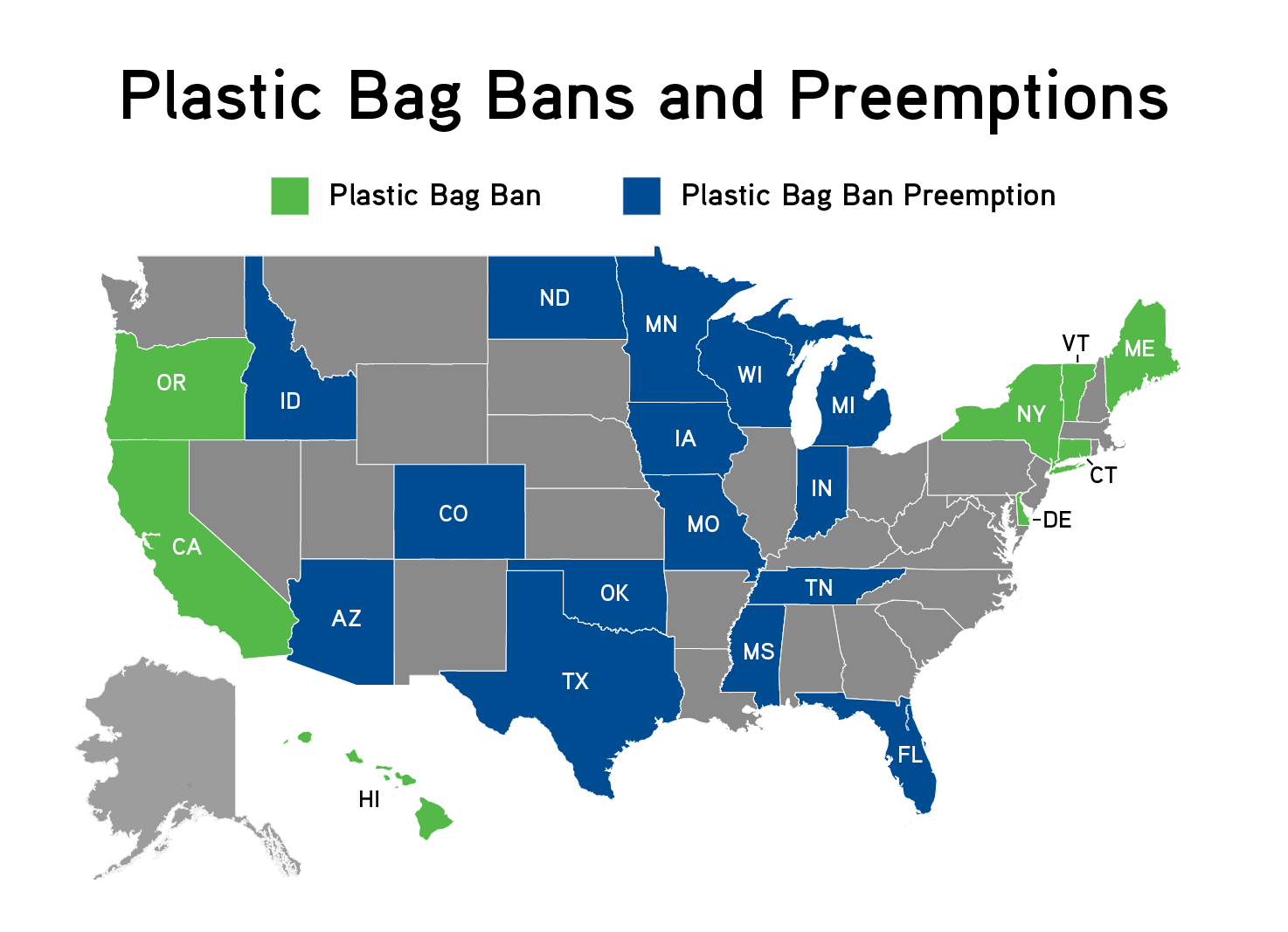 How do I adapt to the ban?
The bag alternatives at checkout will be limited. However, as a customer, there are many ways to prepare for the change—and save money. New York is providing 225,000 reusable bags to food pantries and shelters around the state. Customers also can bring bags they already own instead of purchasing a new reusable bag at the store or reuse any plastic bags that have been accumulating in their homes. Customers can remember to bring reusable bags by keeping them in visible and accessible places, such as hanging by the door.
If paying for paper bags, customers can opt to use as few paper bags as needed and choose to carry products with handles, such as a gallon of milk.
Questions and challenges
On the eve of New York's plastic bag ban, questions and challenges remain, including if there will be any unintended consequences from the ban.
A recent study examined the various California municipal plastic bag bans and found an immediate increase in the sales of small and medium trashing bags, suggesting people will purchase heavier and thicker garbage bags in the absence of plastic carryout bags. The results show that a 40-million-pound reduction in film plastic bag waste is offset by an additional 12 million pounds of thicker garbage bags. Additional research is needed to determine if increased use of thicker plastic bags will result in an increase of carbon dioxide emissions or leachate contamination.
The transition to paper bags also could have a negative impact on the environment. If there is a significant increase in the use of paper bags, it will likely result in an overall increase in carbon emissions. Paper bags are more resource-intensive than plastic bags. Paper bags also are heavier and take up more space than plastic bags, resulting in more frequent transportation and distribution. In addition, cutting down trees for paper bags eliminates a natural carbon dioxide absorber—further affecting the environment.
There also are calls that these types of plastic bag bans do not go far enough. For example, in California, there are mixed reviews for the law. Although there has been an estimated 80 percent reduction in single-use plastic bags, environmental advocates say there is a legal loophole that allows thicker plastic bags to be used, and that these plastic bags are generally used once before being thrown away. Although New York's law stipulates reusable plastic bags be at least 10 mils thick—more than four times thicker than California's regulations—environmental advocates contend New York's law can be similarly exploited.
In all, shopping in New York is about to change. The success of the plastic bag ban will depend on buy-in, compliance, and enforcement among customers and retailers alike. A reduction in litter and plastic waste is likely, but at what cost to customers, retailers, and even the environment? This is the research question that we will follow in an effort to provide a framework to guide policymaker's decisions as they mull acting on plastic bag legislation.
ABOUT THE AUTHOR

Alexander Morse is a policy analyst at the Rockefeller Institute of Government
---
[1] Albany County's law to impose the five-cent paper bag fee was blocked by the State and will not take effect March 1, 2020. The Department of Taxation and Finance cited deficiencies in the language of the law. The Albany County legislature intends to pass a measure to impose the paper bag fee.