Earlier this year, New York Governor Andrew Cuomo and New Jersey Governor Phil Murphy devoted time in their respective State of the State addresses to advocate for the legalization of adult-use marijuana. Other states, including Connecticut and Illinois, are also likely to take up the issue of adult-use marijuana in 2019. Policymakers considering adult-use marijuana legalization are not doing so in a vacuum; to date, 10 states and the District of Columbia have already been down this path. The experiences of these states in the implementation process can serve as a potential roadmap to states that are contemplating legalization. To paraphrase US Supreme Court Justice Louis Brandeis, states can serve as "laboratories of democracy" that can inform legislation in other states.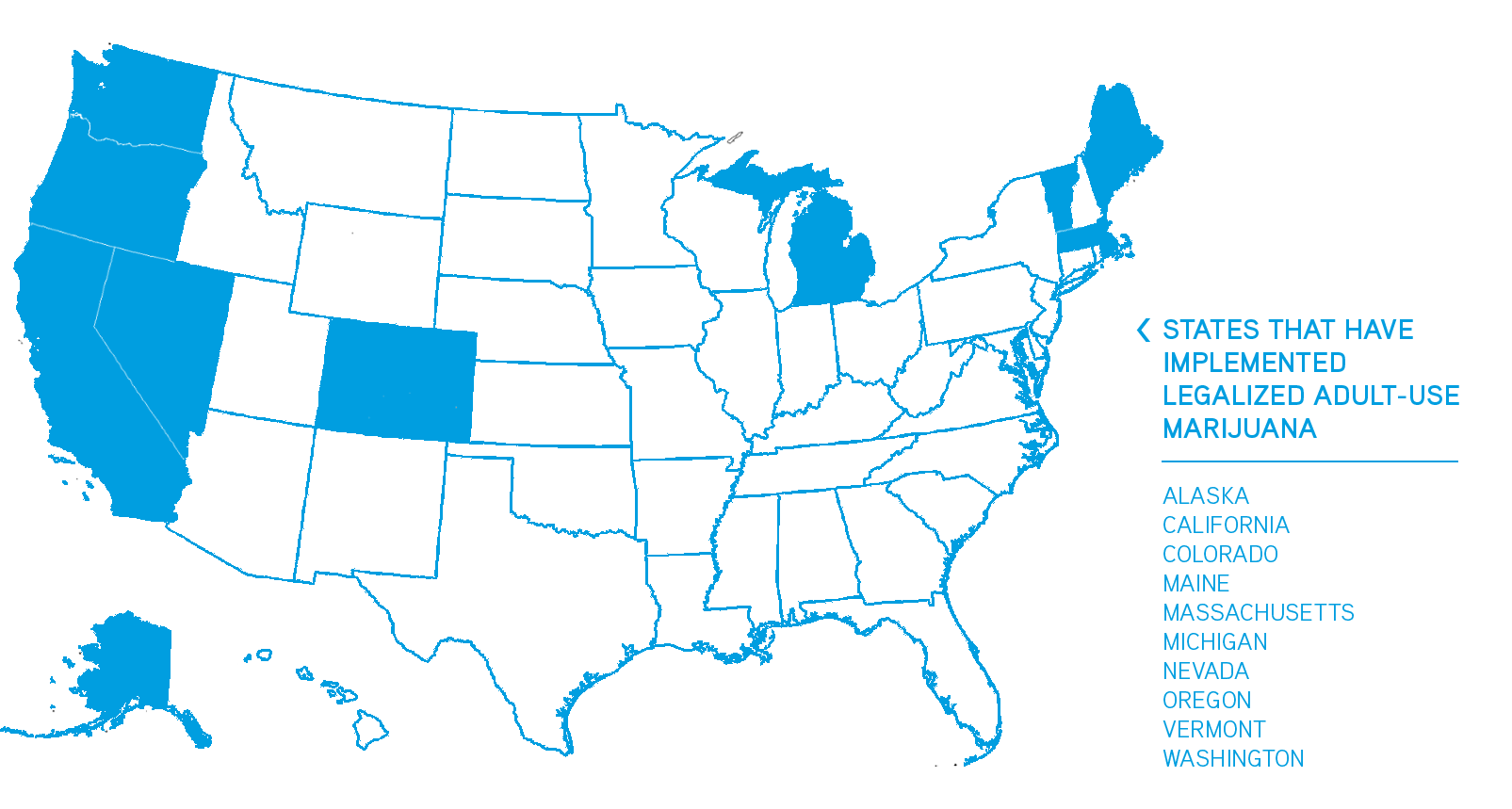 In some ways, the 10 states that have implemented legalized adult-use marijuana so far have a lot in common. The majority of the states have initiated legalization through voter initiative; Vermont is the first and only state that has legalized through action by the state legislature. Most of the states have created a commercial market for the sale of marijuana for adult-use use through dispensaries; once again, Vermont is the outlier, legalizing home grown marijuana but not creating a commercial market for sales. All of the states are also operating in the somewhat uncertain context of regulating a practice that is illegal at the federal level. Presumably, no state wants to do anything that brings the attention — and enforcement — of the federal government, so there is added pressure on implementation decisions. This is not to say that there is one uniform way to implement adult-use marijuana — there is variation in how states have decided to regulate marijuana, and the new wave of adult-use marijuana implementation is more likely to be done through legislative action than at the ballot box. No matter how states ultimately choose to adopt and implement adult-use marijuana, however, there are some common questions that states should consider, drawing from the experiences of the states that have gone before them.
ISSUE 1. Determining the Proper Level of Taxation
One of the reasons that many states are interested in legalizing adult-use marijuana is because they see it as a potential source of revenue. As of January 2019, Colorado, the first state to legalize adult-use marijuana, has brought in $927 million in revenue from marijuana taxation and fees in four years. For many cash-strapped states that are still recovering from the Great Recession, another funding stream makes marijuana attractive. States, however, have to determine what the proper tax rate is: one that is high enough to allow the state to generate revenue, but low enough that legalized adult-use marijuana is competitive enough to minimize the black market. So far, there is no consensus on the tax rate for adult-use marijuana in the states or what kind of tax is levied (sales tax, excise tax, flat fee per ounce). Because the federal government classifies marijuana as illegal, there is no comprehensive guidance on marijuana taxation. How do states implement an effective excise tax on marijuana in the absence of clear federal regulatory requirements?
ISSUE 2. How to Deal with a Cash-Only Business
Any state taxation collection is further complicated by the marijuana industry primarily being a cash-only business. Many financial institutions are leery of running afoul of federal regulations. States not only have to make accommodations for large cash payments of tax receipts, but it also makes it more difficult for the state to accurately track marijuana industry revenue to tax without banking records or credit card statements for sales. Businesses with large amounts of cash on hand are also a target for theft. How can states effectively tax a cash-only industry and maintain public safety?
ISSUE 3. Determining the Actual Economic Development Impact
In addition to revenue, the expansion of the state marijuana industry to include adult use also brings the promise of new job creation. As the market for marijuana increases, additional job opportunities could emerge for growers, laboratories, distributors, and retail. A study conducted one year after legalization found that the adult-use industry in Colorado employed 12,591 full-time-equivalent workers and supported an additional 5,414. However, has job creation actually borne out in the states — and have jobs been lost to increased failure of drug testing where adult use is legal?
ISSUE 4. NMIMBY – No Marijuana in My Backyard
Public opinion has shifted radically in favor of legalized marijuana in the last 30 years or so; an October 2018 Pew Research Center survey found that 62 percent of Americans believe that the use of marijuana should be legalized, compared to 16 percent back in 1990. People generally are on board with marijuana legalization — until a dispensary or grow facility wants to locate in their neighborhood. As states implement adult-use marijuana programs, they should expect local governments to want to restrict the presence of marijuana-related businesses in their jurisdiction. Voters who are worried about the proximity of dispensaries to schools and the potential impact on their property values if a marijuana business is located nearby will put pressure on local officials to pass legislation that allows their city or county to prohibit dispensaries or grow facilities in their jurisdiction. In Michigan, which permitted adult-use marijuana earlier this year, nearly 250 local governments have decided to ban adult-use marijuana sales. The number of local governments that decide to opt out may impact availability of marijuana to some residents and could potentially impact total sales if enough local governments prohibit adult-use marijuana sales. While it is important for local governments to have a mechanism to determine what economic activity occurs within their jurisdiction, states must also be prepared for many local governments to take advantage of it. How can states encourage local governments to embrace the marijuana industry?
Percent of Americans Who Believe that Marijuana Should Be Legalized, 1990-2018
SOURCE: Hannah Hartig and Abigail Geiger, "About six-in-ten Americans support marijuana legalization," Pew Research Center, October 8, 2018.
Issue 5. Marijuana as a Tool for Social Justice Reform
Legalizing adult-use marijuana has also been an opportunity for some states to make a concerted effort to attempt to address social justice issues related to previous enforcement of marijuana prohibition, which disproportionally harmed people of color and the economically disadvantaged. Though members of these two groups have historically comprised the majority of convictions for nonviolent marijuana-related offenses, they are underrepresented in the legal marijuana industry. Massachusetts has tried to address this inequity with some provisions of their marijuana regulations to encourage diversity in participation. The state's Social Equity Program is designed to "reduce barriers to entry in the commercial cannabis industry; provide professional, technical services, and mentoring for those facing systemic barriers; and promote sustainable, socially, and economically reparative practices in the commercial adult-use marijuana industry in Massachusetts." Other states, like California, that have legalized adult-use marijuana have focused on expunging certain previous marijuana convictions. Have these reforms had the desired impact?
ISSUE 6. Keeping Marijuana Green
Marijuana may grow "like a weed," but marijuana cultivation is not necessarily an environmentally friendly procedure. To begin, marijuana plants require plenty of water. Indoor grow facilities necessitate a lot of electricity and outdoor growing can lead to deforestation and erosion. While it is too early to measure the long-term impact of marijuana cultivation, states are beginning to add energy, water, waste, and pesticide regulations to the industry. Massachusetts, for example, has lighting restrictions in grow facilities, while Oregon growers must have legal sources of water. California sets aside a percentage of revenues from state marijuana sales to repair damaged lands and increase environmental enforcement. How do states strike the balance between encouraging expansion in the marijuana industry while also protecting the environment?
In the coming weeks, the Rockefeller Institute will be delving more deeply into these issues with a series of follow-up blog posts from several of our researchers.
ABOUT THE AUTHOR
Heather Trela is chief of staff and fellow at the Rockefeller Institute of Government


---

POLICYMAKERS CONSIDERING ADULT-USE MARIJUANA LEGALIZATION ARE NOT DOING SO IN A VACUUM. To date, 10 states and the District of Columbia have already been down this path. Their experiences implementing new laws can serve as a potential roadmap for other states considering legalization. To paraphrase U.S. Supreme Court Justice Louis Brandeis, states can serve as "laboratories of democracy" that can inform legislation in other states. Read the series.