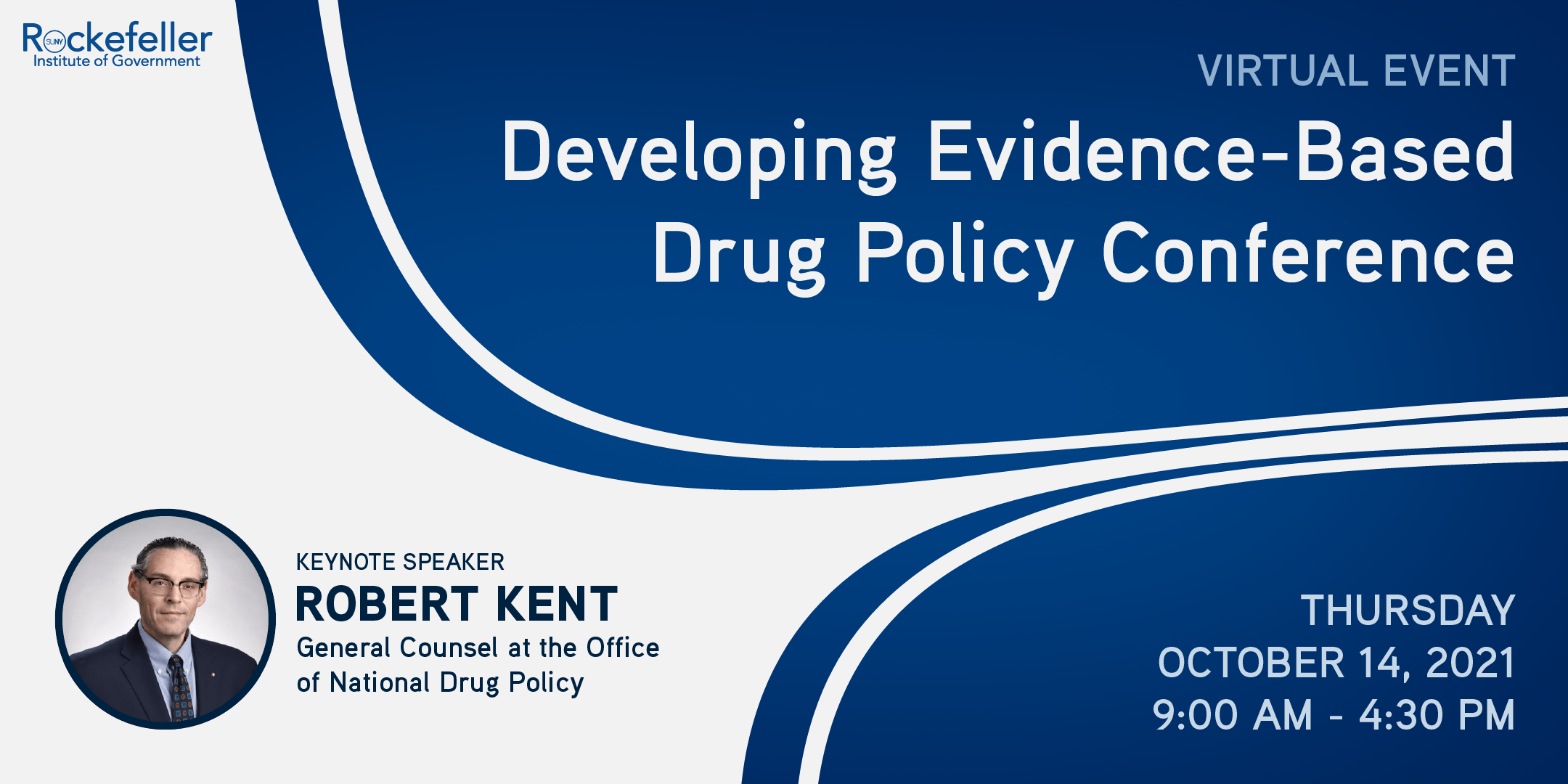 Presenter Bios
9:15 – 10:15 AM | Evidence of Impacts from COVID-19 Policy Changes for Substance-Use Disorder Treatments
Moderator: Leigh Wedenoja, senior policy analyst at the Rockefeller Institute of Government, specializes in the economics of education, labor economics, behavioral economics, policy analysis, and demography. Wedenoja has served as a postdoctoral research associate in the Department of Education at Brown University since 2017. Prior to that, she served as administrator of the US Census Bureau's Federal Statistical Research Data Center at Cornell University. She has published "Labour Law Violations in Chile" in the journal International Labour Review as well as a series of working papers on education, labor, and behavioral economics. She holds a PhD in economics and a master's in economics from Cornell University and a bachelor's in economics, Latin American, and Caribbean studies from the University of Michigan.
Take-home dosing experiences among persons receiving methadone maintenance treatment during COVID-19
Nabarun Dasgupta is a scientist at the University of North Carolina, who has studied prescription opioids and heroin for two decades. Blending epidemiology, harm reduction, analytical chemistry, and informatics, his work is equal parts research and community service. His portfolio can be seen at the Opioid Data Lab (OpioidData.org).
New York State's substance-use disorder services during COVID-19
Patricia Strach is a professor in the Departments of Political Science and Public Administration & Policy at the University at Albany, State University of New York and a Howard J. Samuels State and City Policy Center Fellow. Together with Elizabeth Pérez-Chiqués and Katie Zuber, she has been studying the opioid epidemic from the ground up in New York State. She is the author of Hiding Politics in Plain Sight: Cause Marketing, Corporate Influence, and Breast Cancer Policymaking (Oxford 2016), All in the Family: The Private Roots of American Public Policy (Stanford 2007), and articles appearing in Political Research Quarterly, Journal of Policy History, and the Journal of Health Politics, Policy and Law. From 2008-2010, she was a Robert Wood Johnson scholar in health policy research at Harvard University. Strach received her doctorate in political science from the University of Wisconsin-Madison in 2004.
Telemedicine increases access to buprenorphine initiation during the COVID-19 pandemic
Linda Wang, MD, is an assistant professor in the Division of General Internal Medicine at the Icahn School of Medicine at Mount Sinai. She is a general internist and addiction medicine specialist who cares for people who use drugs at the Respectful and Equitable Access to Comprehensive Healthcare (REACH) Program at Mount Sinai, where she also directs the buprenorphine treatment program. She is the medical director for the Hepatitis C and Drug User Health Center of Excellence at the Institute for Advanced Medicine at Mount Sinai, which is part of the New York State Clinical Education Initiative. She is an active clinician educator who is interested in expanding access to substance-use disorder treatment, stigma-free care for people who use drugs, and training current and future clinicians in drug user health.
10:30 – 11:45 AM | Panel 1: Medication-Assisted Treatment for Justice-Involved People
Moderator: Taleed El-Sabawi is a scholar with the Addiction and Public Policy Initiative at the O'Neill Institute. Her area of expertise is in addiction and mental health policy, politics, and law.
El-Sabawi has studied and written extensively on legislative decision-making, interest group mobilization, and narrative discourse surrounding opioid overdose deaths; addiction policy history, specifically as it relates to the regulation of potentially habit-forming substances; and substance-use disorder treatment financing parity. Recently, she co-authored a model law that creates non-police behavioral health crisis response teams and has been assisting grassroots advocacy groups in developing narrative strategies to garner political support for the reform of institutions that perpetuate racial violence. El-Sabawi is a member of the Actional Advisory Circle of the North Carolina Urban Survivors Union, a chapter of the Urban Survivors Union, and frequently works alongside persons who use drugs advocating for policy reform. She is also an assistant professor of law at Elon University School of Law.
El-Sabawi holds a JD from the University of Texas School of Law and a PhD in public health and health services management and policy, with a doctoral cognate in political science from the Ohio State University.
Remarks
Assemblymember Linda B. Rosenthal (D/WF- Manhattan) represents the 67th Assembly District, which includes the Upper West Side and parts of Hell's Kitchen. She is a lifelong resident of the Upper West Side and serves as chair of the Assembly Committee on Social Services. Since taking office in 2006, Assemblymember Rosenthal has passed more than 120 laws that have helped to improve the lives of all New York State residents. She is a leader on issues including affordable housing, menstrual equity, environmental protection, consumer protection, addiction treatment and recovery, and animal welfare.
In her time as chair of the Committee on Alcoholism and Drug Abuse, she introduced legislation to authorize overdose prevention centers in New York, to expand access to medication-assisted treatment (MAT) and naloxone statewide, and require state and local correctional facilities to provide people who are incarcerated with access to MAT while working to destigmatize addiction issues and expand access to treatment and recovery services statewide. She has passed more than 20 laws protecting animals in New York State, including laws extending orders of protection to companion animals, empowering local governments across the state to crack down on puppy mills, banning the tattooing and piercing of pets, banning the declawing of cats and requiring that dogs used in laboratory testing are put up for adoption. Assemblymember Rosenthal is also a leader in environmental protection, passing legislation to prohibit the sale and use of lead and mercury-added wheel weights on vehicles, establishing the affordable residential green building, and restricting the use of glyphosate, a probable carcinogen found in popular weed killers, from being used on state-owned and operated property.
Access to substance-use disorder treatment during COVID-19: Implications from reduced local jail populations
Erkmen Aslim is an assistant professor of economics in the Seidman College of Business at Grand Valley State University. He has held a faculty position at Minerva Schools at Keck Graduate Institute, Claremont Colleges and a postdoctoral research associate position in the Private Enterprise Research Center at Texas A&M University. He received his PhD in economics from Lehigh University in 2018. Aslim's primary substantive field of research is applied microeconomics, with a special focus on health economics, labor economics, and public economics. His research mainly focuses on the impact of public health insurance on healthcare on labor market and health outcomes, and criminal behavior. Most recently, his work explores the effects of COVID-19 on access to health care among inmates. His quotes and writings have appeared in The Appeal, WGVU News PBS, Michigan Radio NPR, Holland Sentinel, the Center for American Progress, among other national and regional media outlets.
Changes in health services use after receipt of medications for opioid-use disorder in a statewide correctional system
Benjamin A. Howell, MD, MPH, MHS, received his medical degree from the University of California, San Francisco along with a masters of public health from the University of California Berkeley School of Public Health. He completed residency and chief residency in the Internal Medicine-Primary Care residency at Yale-New Haven Hospital. Following residency, he completed a health services research post-doctoral fellowship in the Yale School of Medicine's National Clinician Scholars Program before joining Yale's School of Medicine faculty. He is faculty in the Yale SEICHE Center for Health and Justice and affiliate faculty in the Yale Program in Addiction Medicine. Howell is interested in improving the health outcomes of individuals, families, and communities impacted by mass incarceration with a focus on substance use disorders.
Medication-assisted treatment in state prisons
Acting Executive Deputy Commissioner Daniel F. Martuscello III began his career with the then Department of Correctional Services in May 1997, as a correction officer trainee. He transitioned from security to administrative services in 2001, where he held a variety of titles within the Bureau of Personnel, including director of human resources. In August 2012, Martuscello was appointed deputy commissioner for administrative services, and, most recently, to acting executive deputy commissioner for the NYS Department of Corrections and Community Supervision, making him the second highest-ranking individual in the department. Martuscello coordinates the activities of and provides general direction to the entire executive team, performs special assignments at the acting commissioner's direction, and serves as the acting commissioner's principal advisor, with emphasis on labor relations, intergovernmental matters, and community issues. Martuscello holds a bachelor of arts degree in sociology, with a concentration in criminology from the State University of New York at Cortland.
10:30 – 11:45 AM | Panel 2: The Social Impacts of Drug Use and Substance-Use Disorder
Moderator: Miesha Marzell is an associate professor in the Public Health Division, Decker College of Nursing and Health Sciences, at Binghamton University, State University of New York. Prior to joining the faculty at Binghamton, she completed her master of social work at the University of Southern California and her PhD in biobehavioral health at Pennsylvania State University. Marzell was also a postdoctoral fellow at the University of California, Berkeley, School of Public Health and Prevention Research Center and was subsequently an assistant professor in the Department of Community and Behavioral Health at the University of Iowa College of Public Health. As a researcher, she is interested in the etiology and prevention of high-risk substance use and mental health well-being specifically among racial/ethnic underserved populations. Marzell's research interests also extend to the environmental and policy factors that can influence behavior and promote healthy communities. She wants to translate scientific evidence into recommendations for substance-use prevention, public policy, and clinical practice.
What about the children? How opioid use affects child well-being
Lindsey Rose Bullinger, PhD, is an assistant professor in the School of Public Policy at the Georgia Institute of Technology. Her research examines the role of public policies in child and family health and well-being, with a particular focus on low-income families. Some of her previous research examines the scope of the opioid crisis on children and evaluates the effects of various policies intended to reduce opioid use on child maltreatment and foster care entry. Bullinger earned her PhD from the Indiana University O'Neill School of Public and Environmental Affairs.
Unemployment benefit receipt and substance use among low-income households during COVID-19
Ashley M. Fox, PhD, MA, is an associate professor in the Department of Public Administration and Policy at the University at Albany, State University of New York. She earned her BA and MA in political science from the University of Connecticut and a PhD in sociomedical sciences from Columbia University. She was a postdoctoral fellow in the Department of Global Health and Population at Harvard and at Yale University in the Division of Health Policy and Administration. Her research focuses on comparative health politics of policy and the effects of social policies on health outcomes.
Soyun Jeong is a second-year PhD student in the Department of Public Administration and Policy at the University at Albany, State University of New York. Her research interest is investigating the effects of social welfare policies on marginalized groups. She is also interested in comparing state policies and how different state policy choices create inequality. She received her MA in social policy from Katholieke Universiteit Leuven in Belgium and BA in public administration from Chung-Ang University in South Korea.
Ensuring the protection of youth in state drug law liberalization efforts
Linda Richter, PhD, is the vice president of prevention research and analysis at Partnership to End Addiction in New York, where she conducts research on the nature, scope, predictors, and consequences of all forms of substance use and addiction, especially among young people. She leverages this research to help raise awareness among parents, educators, health professionals, and policymakers about best practices in substance-use prevention and addiction care.
12:15 – 12:45 PM | Perspectives from New York State Government
Remarks
New York State Senator Peter B. Harckham, known as "Pete," represents New York State's 40th Senate District, which includes parts of Westchester, Putnam and Dutchess counties. He was elected to the State Senate in November 2018, and re-elected in November 2020. Currently, he is chair of the Senate Committee on Alcoholism and Substance Abuse. As co-chair of the NYS Senate Joint Task Force on Opioids, Addiction & Overdose Prevention, Harckham conducted a series of hearings and roundtables around the state and in Canada to listen to the challenges and opportunities patients, doctors, municipalities, law enforcement, and treatment providers are facing.
With information from a report task force issued, the Senate passed a package of bills designed to end the stigma of Substance Use Disorder (SUD), overcome barriers to treatment, and expand access to medication-assisted treatment (MAT) and opioid antagonists like naloxone. Since the COVID-19 pandemic, Harckham has worked to put SUD treatment providers on equal footing with other healthcare providers. Legislation that Harckham sponsored, now signed into law, allows the state's Office of Addiction Services and Supports (OASAS) to join the Office of Emergency Management (OEM) at the table for disaster planning and crisis responses efforts. Another new law allows SUD peer counselors to bill for telehealth like all other health care providers. Harckham also introduced "Stephen's Law," enacted in 2019, which requires providers to reach out to a designated loved one if a patient has left treatment unexpectedly. Another bill of his signed into law gives nurses the ability to carry opioid overdose reversal drugs. All told, Harckham has introduced over 40 bills in the Senate related to SUD and the opioid overdose crisis.
Remarks
Assemblymember Phil Steck grew up in the Assembly district he now represents. He is a magna cum laude graduate of Harvard (1981) and a graduate of the University of Pennsylvania Law School (1984) where he was a member of the Law Review and Penn's National Moot Court team. From 1987 to 1989, he served as an Assistant District Attorney in New York and Rensselaer Counties. Steck joined the law firm of Cooper, Erving and Savage LLP in 1990. His practice is concentrated in civil rights and employment law. He is a member of the National Employment Lawyers Association. In 1999, Steck was elected to the Albany County Legislature from the District centered in Menands. He was re-elected three times. In 2012, he won the primary and general election to become the representative of the 110th Assembly District.
Steck is chairman of the Alcoholism and Drug Abuse Committee, and a member of the Health, Insurance, Judiciary, Labor, and Oversight/Investigations Committees. His major legislative interests include single-payer health insurance (Medicare for All), expanding membership in county self-insured health plans to embrace all municipalities so as to reduce health insurance costs funded by taxpayers, reducing heavy-handed practices of State administrative agencies, raising revenue through the stock transfer tax to support rebuilding the infrastructure of Upstate New York, increased funding for public education to meet levels promised in prior legislation, and oversight of the Office of Court Administration.
1:00 – 1:30 PM | Data Resources for Tracking Adverse Health Outcomes and Policy/Intervention Effectiveness
Trang Nguyen, MD, DrPH, is the deputy director, Office of Public Health Practice, New York State Department of Health. Nguyen has over 20 years of experience working in health care and public health research and surveillance fields. She directs statewide efforts on providing a wide range of public health data for community health needs assessment at the state, regional, and local levels. She has been leading efforts at the State Department of Health to provide the analyses of multiple data sources and development of various opioid data reports and dashboard.
2:00 – 3:00 PM | An Overview of Federal Policy Priorities
Robert Kent most recently served as the vice president of advocacy and general counsel for the American Association of Orthodontists, a national healthcare organization. Prior to that he served as the general counsel for the New York State Office of Addiction Services and Supports (OASAS). In this role, Kent provided overall legal support, policy guidance, and direction to the OASAS executive office and all divisions of the agency. Kent led OASAS efforts to implement New York State's Heroin and Opioid Task Force recommendations, which included the Combat Addiction/Heroin Campaign, the federal opioid-targeted grant program, and Medicaid Redesign Team initiatives. He also led efforts on the implementation of historic legislation to increase access to treatment, including harm reduction services. Kent has co-authored articles on patient confidentiality and sober homes and has presented nationally and throughout New York State on the addiction system of care.
David Holtgrave, PhD, is a detailee under the Interagency Personnel Act with the Office of National Drug Control Policy, executive office of the president where he serves as a senior policy analyst. Holtgrave also serves as the dean of the University at Albany School of Public Health and State University of New York distinguished professor. His three-decade career in public health has included senior positions at the Centers for Disease Control and Prevention, Emory University, and Johns Hopkins University, and he served on the Presidential Advisory Council on HIV/AIDS during President Obama's administration. He has conducted highly cited, rigorous research designed to inform important and timely public health policy and program questions. Holtgrave has taught research methodology to graduate students and delivered an award-winning course on "Translating Science into Public Health Programs" at both Emory and Johns Hopkins. His has worked on infectious disease, harm reduction (especially syringe exchange), social and behavioral science, health equity, and translational science topics during his career.
3:00 – 4:00 PM | Disparities in Substance-Use Disorder Treatments
Moderator: Debbian Fletcher-Blake serves as the chief executive officer at Vocational Instruction Project (VIP) Community Services, Inc., an organization in the Bronx that offers comprehensive medical, behavioral health, housing, vocational and supportive services to the community. She served as administrator, and medical provider in several Federally Qualified Health Centers (FQHC) for over 25 years and as nursing instructor at New York University.
Fletcher-Blake has been active in building culturally competent workforces, tackling healthcare inequities, focusing on strategies to eliminate health disparities and working to ensure community members are active participants in deciding systems of care. In 2019, for her leadership, vision, and dedication to reducing health disparities in the communities and transforming lives of the underserved populations, Fletcher-Blake was selected one of CRAIN's Notable Women in Health Care. She is also the recipient of the prestigious Dr. Philip W. Brickner Award Honoree from Community and Health Care Association of New York State (CHCANYS) for advocating and championing for the medical needs of those who are homeless and vulnerable and, most recently, received a Bronx Power Woman Award for her relentless contributions to the Bronx.
Fletcher-Blake serves on multiple boards, councils and coalitions including Montefiore Nyack Hospital, CHCANYS, NYC Behavioral Health Council, and Coalition of Medication Assisted Treatment Providers. She is also a mentor for the National Behavioral Health Council's Certified Community Behavioral Health Clinic (CCBHC) mentorship program.
Fletcher-Blake is a board-certified family nurse practitioner. She holds a master of science in nursing from Pace University. Fletcher-Blake holds an executive leadership certificate from University of California, Los Angeles School of Business and bachelor of science degrees in nursing and chemistry.
Racial/ethnic disparities in the use of mediations for opioid-use disorder (MOUD) and their effects on residential drug treatment outcomes in the US
David Baron is currently a professor of psychiatry and provost and senior vice president of Western University of Health Sciences. Baron is an emeritus professor at the University of Southern California, former deputy clinical director of the National Institute of Mental Health (NIMH), and chair of the Department of Psychiatry at Temple University of Medicine. Baron is a past president of the Group for the Advancement of Psychiatry, and the American College of Neuropsychiatrists. He is the current chair of the American Psychiatric Association (APA) Caucus on Global Mental Health, and chair, Section on Medicine, Psychiatry and Primary Care of the World Psychiatric Association. He is a distinguished life fellow of the APA, a distinguished fellow of the American College of Physicians (ACP), and international fellow of the Royal College of Medicine.
Disparities in receipt of medications for opioid-use disorder among pregnant women
Laura E. Henkhaus, PhD, is a postdoctoral scholar affiliated with the Department of Health Policy and Center for Child Health Policy at Vanderbilt University Medical Center and with the Data Science Institute at Vanderbilt University. Her research focuses on two main themes: (1) measuring impacts of childhood circumstances and policy interventions on health and economic well-being over the life course and (2) examining disparities in health care receipt and measuring quality—especially for mental, behavioral, and children's developmental health. Henkhaus completed her PhD in health economics at the University of Southern California.
The case for opioid treatment reparations: NYC opioid treatment program geographies and structural racism
Shawn Hill is an East Harlem community activist and a co-founder of The Greater Harlem Coalition (GHC). Within The Greater Harlem Coalition Hill analyzes and visualizes Freedom of Information Law data that GHC has requested/obtained from New York State and City agencies. The resulting maps, graphs, and other visualizations have helped Harlem residents, leaders, and small business owners understand how decades of New York State and local decision-making have resulted in many of the health and quality-of-life disparities that impact all who shop, visit, attend school, pray, work, and live in Harlem. Hill works for Fordham University as an instructional technologist for digital scholarship and pedagogy where he supports students, faculty research, and teaching.
Addressing racial & socioeconomic disparities in access to medications for opioid-use disorder amid COVID-19
Max Jordan Nguemeni Tiako is a resident physician in the department of internal medicine at Harvard Medical School's Brigham and Women's Hospital in Boston, MA. He graduated from the Yale School of Medicine (Cum Laude) in New Haven, CT in 2021. Prior to attending Yale, Nguemeni Tiako worked as a researcher in the Merryman Mechanobiology Laboratory at Vanderbilt University in Nashville, TN. He earned an MS in bioengineering at the Georgia Institute of Technology, in Atlanta, GA (2015) and a BS in civil and environmental engineering (Summa Cum Laude) at Howard University in Washington, DC (2013).
Nguemeni Tiako's research interests include improving the quality of care for people from marginalized and stigmatized groups, which has led him to develop a research thread in addiction medicine since his first year of medical school. He is also interested in how residential and occupational environmental exposures shape people's health, and in identifying key levers that can be activated as buffers against the effects of climate change and environmental racism. This has led Nguemeni Tiako to research associations between access to nature and health outcomes, most notably, hypertension in pregnancy, a leading cause of maternal mortality.
Nguemeni Tiako hosts and produces a podcast titled "Flip the Script," focused on elucidating mechanisms behind observed health inequities, and highlighting the work of scholars, physicians, and community health workers who make it their priority to address said inequities. He also writes about racism in medical education based on personal experiences and observations. This year, Nguemeni Tiako was recognized among Forbes Magazine's 30 under 30 in Healthcare, for his work in health equity.