Take this five question Thanksgiving food quiz before reading further!
Thanksgiving will be very different for many Americans this year. Due to the COVID-19 pandemic, many of us will be forgoing travel and large gatherings for smaller intimate meals at home. One thing that has not changed is the wide variety of celebratory food that will make its way to the table on Thursday. While we may not be traveling as far to the Thanksgiving table this year, the food we eat may still have a long trip from the farm to the oven.
To give an overview of where Thanksgiving dinner starts, we used the most recent (2017) United States Department of Agriculture (USDA) Census of Agriculture to map county-by-county where 10 common Thanksgiving foods start their journey to the table. The 10 foods are: apples, Brussels sprouts, collard greens, cranberries, green beans, potato, pumpkin, sweet corn, sweet potato, and, of course, turkey.
What is most striking in the map is that traditional Thanksgiving foods are raised and grown all over the country. In fact, 96 percent of Americans live in a county that produces at least one of these 10 foods. The food most commonly produced locally is green beans; 88 percent of Americans live in a county with green bean production. By comparison, only 4 percent of Americans live in a county where cranberries are grown.
While Thanksgiving food is produced all over the country, it is fairly rare to live somewhere that produces all or most of the food for the table. Only five states—Michigan, Minnesota, New York, Pennsylvania, and Wisconsin—produce all 10 foods and there are no counties that produce both turkeys and cranberries. About a quarter of Americans (26 percent) live in a county that produces at least eight of the 10 foods we looked at.
We often think crops grow only in rural counties but 24 of the 25 most populous counties produce at least one traditional thanksgiving food and nine of those counties produce eight or more. The counties that contain Los Angeles, Phoenix, San Diego, Miami, Seattle, Detroit, and part of Long Island each produce eight or more traditional Thanksgiving foods. The only county in the top 25 that produces none is New York County which consists of the island of Manhattan. Even Brooklyn (King's County, NY) produces pumpkins and collard greens.
Finally, based on the 2017 Census of Agriculture, we have determined each state's most important contribution to Thanksgiving dinner. The map shows the crop for which the state has the largest national share. For example, New York was responsible for 14.03 percent of the national apple crop in 2017. The results are both expected and surprising. On the expected side, Idaho contributes the most to the potato harvest, and Michigan, New York, and Washington contribute most to the apple harvest. On the unexpected side, Maine, known for cranberries, actually produces a larger percentage of the potato harvest than the cranberry harvest and North Carolina, the number one producer of turkeys overall, produces the majority of the sweet potato harvest at a whopping 62 percent. California has a near monopoly on Brussels sprouts, producing 81 percent of the harvest. Take a look at the map to see your state's most produced Thanksgiving food.
Percent of National Production of US States' Most Produced Thanksgiving Food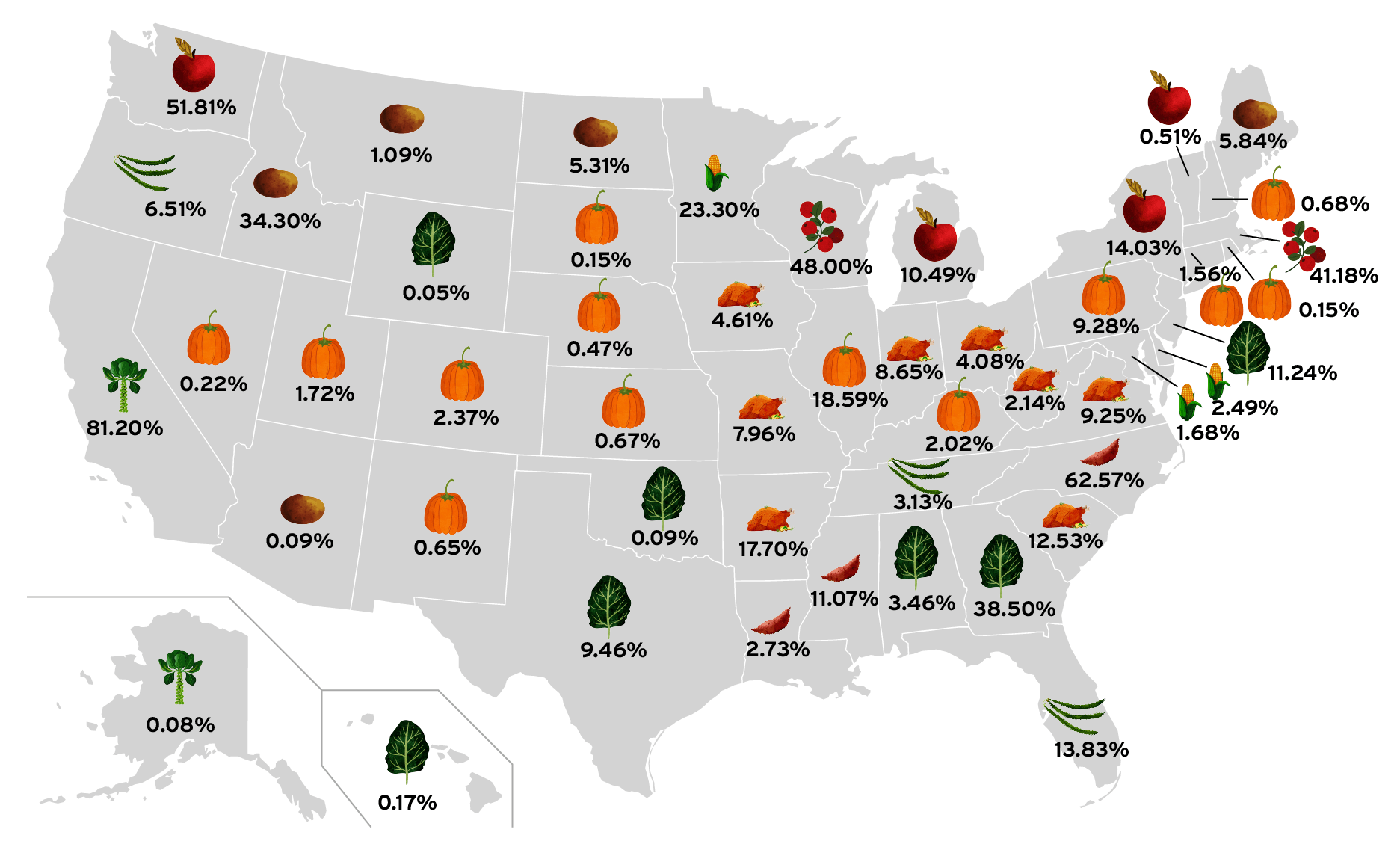 Thanksgiving Food Key