The summer of 2021 brought on the Great Resignation with scores of Americans quitting their jobs—including in local government. Driven by COVID-fatigue, a desire for better pay, and employee retirements, more people have left state and local government in the last two years than ever before, leaving a dearth of willing and qualified people to take their place.
While government employment has endured setbacks during recessions, what's happening now goes beyond that. It has the potential to permanently reshape the future of public sector work.
"This type of exodus isn't just us, it's every county in the region," said Berke Attila, the human resources director for Montgomery County, Maryland. "The succession planning just is not where it needs to be to deal with this type of 'Big Quit.'"
Record Resignations
State and local government employment peaked at nearly 20 million workers until the onset of the pandemic resulted in the sector losing 1.5 million jobs. About 607,000 positions have come back, but state and local governments are still 928,000 below where they were before the COVID-19 crisis hit. And since this summer, progress hasn't just stalled—employment is starting to reverse.
US Employment by Sector, Indexed
SOURCE: US Bureau of Labor Statistics, Current Employment Statistics, seasonally adjusted.
The onset of the pandemic accelerated what had been a steady increase in the rate of people leaving state and local government over the last decade. Annual quit rates increased from 6.1 percent in 2010 to 9.7 percent in 2016, then seemed to stabilize. But in 2020, that shot up to a record 11.7 percent, according to data from the Bureau of Labor Statistics (BLS).
Separations, which includes retirements, shows how voluntary quits fit into the overall picture. After peaking in the early months of the pandemic, the rate of separations stabilized in late 2020. But that changed in 2021, with the monthly rate more than doubling between April and August. It's contrary to what many observers expected to happen after the passage of the American Rescue Plan Act in March 2021 guaranteed billions in fiscal relief funds for states and localities.
Separations? Discharges? Some definitions…
The separation rate measures the percentage of employees who left their organization over a given period. Separations can be categorized as:
Quits, or voluntary separations initiated by the employee.
Layoffs and discharges, or involuntary separations initiated by the employer.
Other separations include separation due to retirement, death, disability, or transfers within the firm.
Total Separations and Quits: State and Local Government, 2020-21

While other sectors are also experiencing higher quit rates, only the government and the leisure and hospitality sectors are now consistently seeing actual declines in workers. What's more, 2021 marked the highest number and rate of state and local government job openings in the past 20 years, suggesting that governments are understaffed and unequipped to deal with additional losses. According to BLS data, it jumped from an average of 2.5 percent opening rate prepandemic to 3.8 percent last year.
"There was this assumption that, with the federal funding and relatively robust tax revenues for some, localities would just start being able to hire again and fill their open spots," said Josh Franzel, the managing director of MissionSquare Research Institute. "But our surveys and our case studies are showing that a lot of cities have a hard time finding folks with the skill sets."
What's Behind the Increase in 2021
One of the biggest factors driving the latest jump in government separations is retirement. According to a recent public employee survey from MissionSquare, 38 percent of governments say workers are accelerating retirement plans—the highest percentage since the survey began. That's also in contrast to the last downturn in 2008, when 44 percent of governments said that workers were postponing retirement.
Stress and burnout due to the pandemic continue to be the top emotions employees reported experiencing in their jobs. A full 31 percent of workers said working during the pandemic had made them consider changing jobs and among those, one-quarter want to leave the government sector entirely. Risk-reward has increasingly been a concern among public employees with now half of all respondents saying that the risks they are taking during the pandemic are not on par with their compensation. At the beginning of the pandemic one-third said they felt that way.
Among the jurisdictions interviewed for this piece, law enforcement is the biggest group driving resignations and retirements. That notion is supported by a police workforce survey conducted in May 2021 that found a 45 percent increase in the number of police officers who retired in the past year, compared with 2019. Resignations also increased significantly—by 18 percent. Employment decisions may not be exclusively driven by the pandemic, but may also be impacted by the broader conversations happening around policing in America.
The ability of some employees to work entirely from home during the pandemic—and largely out of harm's way—while others such as police, fire, and medical workers were required to be on the front lines may also have fueled some resentment. In Seattle, for example, the city provided a stipend to those who worked from home to help cover office-related costs. "That has led to people who had to go to work being really frustrated," said city CFO Glen Lee. The city has awarded bonus payments to first responders, as have many across the country. Still, the Seattle Police Department has lost 325 officers during the past two years and leaders have warned of a staffing crisis.
Vaccine mandates in some places have also fueled some separations, largely in public safety departments but in others as well. In Seattle, 151 employees (about 1 percent of the city's 13,250 employment base) were separated as of early December due to not complying with the city's mandate. Of those, 37 retired, 43 resigned, and the rest were separated, according to the city.
Although the latest national monthly figures show a slowdown in separations, the rate may rise again as more employees are officially separated due to mandates. In New York City, for example, nearly 1 percent of city employees are on leave without pay as a result of being noncompliant with the city's vaccine mandate. Seattle's Lee noted his city has "well over 200, perhaps over 300 additional staff who will be separated due to vaccine noncompliance" and those terms are still being negotiated by their union representatives.
Even in Montgomery County, Maryland, one of the most vaccinated counties in the country, employees are threatening to resign if the government requires its workers to be vaccinated.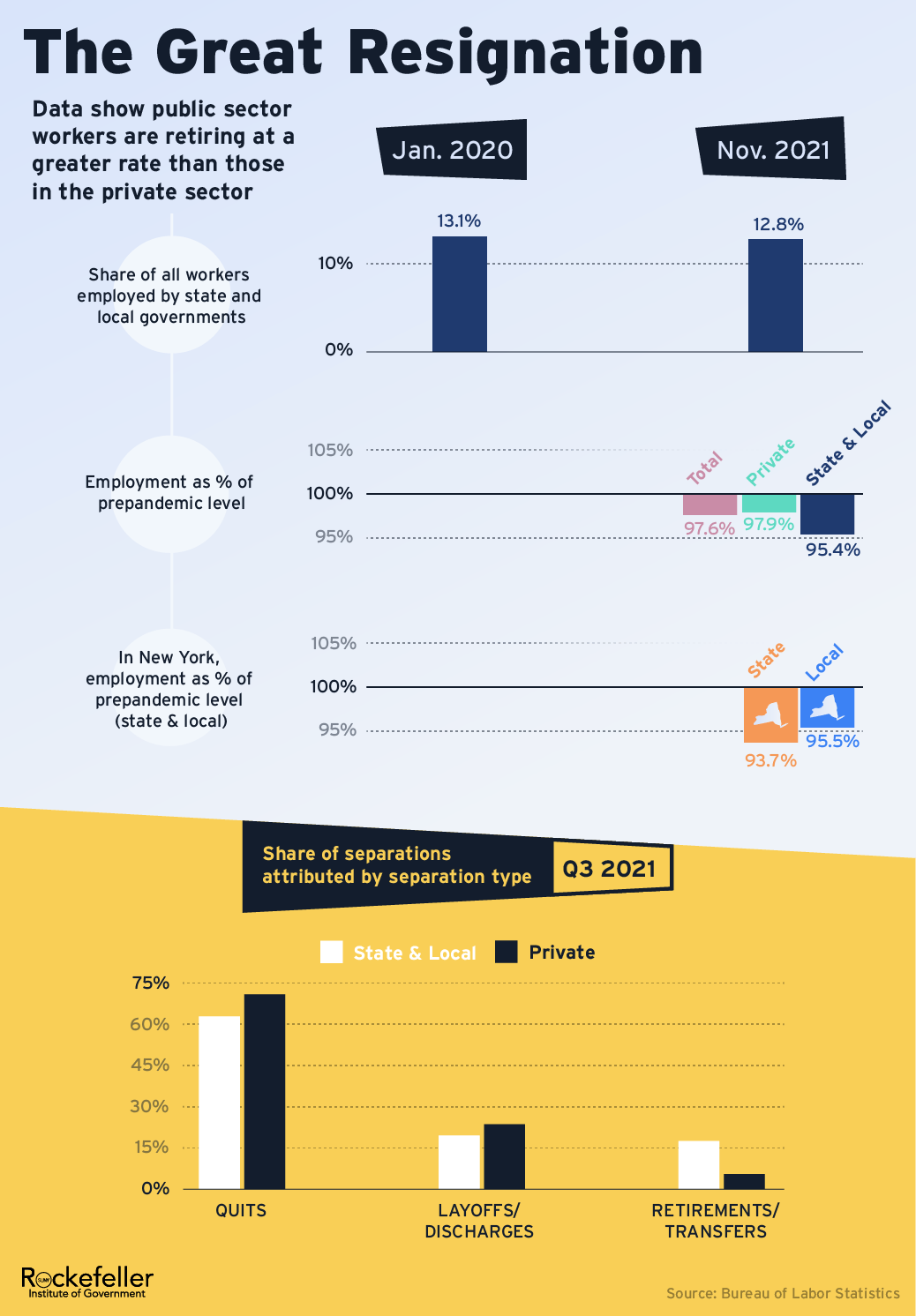 A Pipeline Problem
In many cases, the employees retiring are in mid-to-upper management. They are career staffers, newly eligible for retirement and driven either by pandemic fatigue, a desire to spend more time with family, or for other reasons, are ready to stop working. The wave of experience walking out the door has many concerned about a lack of qualified candidates to take their place. In particular, the public finance workforce—budget analysts and deputy CFOs, for example—has a large age gap. A recent National Association of State Treasurers study found that 60 percent of public finance workers are over 45, and nearly a third are 55 or older. Meanwhile, fewer than two in 10 public finance workers are 34 years old or younger.
The age gap is at least in part due to two things: One, younger workers tend to change jobs more than earlier generations did. So fewer government employees are sticking around long enough to be groomed for upper management. And two, government benefits in many places have either fallen behind the private sector or don't make up for lower public sector wages. In particular, governments have cut pension benefits or done away with them all together for new employees, which reduces the incentive for younger workers to become career employees.
"Bench depth is what's lacking," Mike Mucha, deputy executive director of the Government Finance Officers Association, recently said. "It's not necessarily that local governments are struggling to replace the CFO."
The Future of Government Employment
In response, governments are considering how technology can help them adapt to a smaller workforce without sacrificing on services. Some are also looking at expanding more untraditional benefits—like working from home—to attract new employees.
Automation and the related technology can help governments automate certain workflows and processes while making better use of employees for higher-level decision-making. The consulting firm Deloitte estimates that employing AI technology in the government space could free up as many as 1.2 billion working hours every year—a potential savings of $41.1 billion. Localities can even use America Rescue Plan funding to upgrade certain data systems and replace outdated IT infrastructure.
Hughey Newsome, the CFO for Wayne County, Michigan, said the county only has about 60 percent of its positions currently filled. The county is stepping up recruitment efforts and Newsome said he's pushing for salaries to at least be more competitive with nearby Detroit. But that's the low hanging fruit, he said, and the county ultimately may have to be able to hum along without relying on refilling all those positions. "Technology helps us advance in terms of those things that are a little higher up on the tree," Newsome added.
Governments are also considering so-called nontraditional benefits, which can include flexible work hours, remote work, and help with student loans. Especially with younger workers with student debt or small children, these types of benefits can be an enticing value-add. Half of state and local governments now offer regular telework for eligible positions—about twice as many as in 2020, according to other research by MissionSquare. A similar share also now offer flexible schedules to employees.
"For a long time, retirement benefits were the tool for recruitment and retention," said Franzel. "I think a number of employers are now reevaluating their overall benefits package to make sure it matches the workforce of 2021 versus the workforce of 1980."
ABOUT THE AUTHOR
Liz Farmer is a Future of Labor Research Center fellow at the Rockefeller Institute of Government