Several Upstate New York cities, along with cities across the country, have begun the process of reimagining the relationship between their roads and residents and trying to address the historical legacies and continued socio-economic and environmental health impacts of earlier transportation and urban planning paradigms. These projects and discussions around them have been bolstered by the historic funding available for highways through the federal Infrastructure Investment and Jobs Act—$350 billion dollars over five years—and the new programs therein related to carbon reduction, resilience, electric vehicles, and reconnecting communities "by removing, retrofitting, or mitigating highways."
Syracuse, New York, is one such city. After years of discussion and planning, in May of 2022, the New York State Department of Transportation announced the signing of the record of decision, or planning document that acts as a "final stamp of approval," for the I-81 Viaduct Project. The Viaduct Project will, among other things, remove elevated sections of I-81 that were constructed, like many others interstates in the mid-twentieth century, through neighborhoods of color.
As many other municipalities consider similar projects, the Rockefeller Institute convened an expert panel of researchers and practitioners to discuss the I-81 Viaduct and the environmental health implications related to its past, present, and future. There is no simple one-size fits all answer to how to grapple with the historic impacts of our roadways, or how to reimagine and remake them, but we can look at the models that cities like Syracuse are creating as they strive to meet these challenges.
The public webinar, entitled "Highways and Health: Reimaging our Roadways," outlined the impacts of highways on communities and health and offered insights into solutions to mitigate those health consequences. The webinar featured a diverse group of scholars and practitioners, including:
Keynote Speaker Matthew Driscoll, executive director, New York State Thruway Authority;
Sharon Owens, deputy mayor, City of Syracuse;
Mark Frechette, project director, I-81 Viaduct Project;
Auyon Ghosh, MD, Richard P. Nathan public policy fellow, Rockefeller Institute of Government; assistant professor of medicine, Division of Pulmonary, Critical Care, and Sleep Medicine, SUNY Upstate Medical University;
Lemir Teron, PhD, assistant professor of environmental studies, SUNY Environmental Sciences and Forestry
Moderator Laura Rabinow, PhD, deputy director of research, Rockefeller Institute of Government.
In this post, we visit some important themes that emerged in the discussion.
Reconnecting Communities—the History of Highways in the US
Executive Director Driscoll opened the conversation with a vision of modern transportation infrastructure focused on equity, reconnecting communities, and environmental sustainability. Driscoll highlighted several national and statewide projects reflective of this vision, including the Park East Freeway Removal Project in Milwaukee, WI, which removed the highway that destroyed the historically Black Bronzeville neighborhood, and the Livingston Avenue Railroad Bridge Replacement Project in Albany/Rensselaer, NY, which will help reestablish an economic lifeline to a struggling community.
To plan for the future, we must acknowledge the motivations and ultimate impacts of past decisions. The panelists all referenced the fact that, historically speaking, highway planning in the mid-twentieth century, and many highway adjacent neighborhoods, were the result of structural racism through policies like redlining and urban renewal.
The environmental health impacts of these policies can still be seen and felt decades later. Given my own background as a pulmonologist and public health researcher, I discussed the short-term and long-term lung health impacts of traffic-related air pollution on these communities. Recent data has demonstrated that redlining, the discriminatory practice of segregating populations along demographic lines, was associated with higher exposure to traffic-related air pollution. Higher air pollution exposure has been associated with long-term health impacts, including all-cause mortality, and short-term health impacts, including COVID-related hospitalization. In addition, recent data has also demonstrated that day-to-day changes in air pollution can lead to increases in daily mortality. In Syracuse, these principles can be seen when juxtaposing asthma-related emergency room visits with zip code. In preliminary analyses, there appears to be an association between proximity to I-81 and asthma-related emergency room visits. The preliminary analyses and reviewed literature show the importance of acknowledging the historical impact of I-81 and preparing for the health impacts of the Viaduct Project on the community.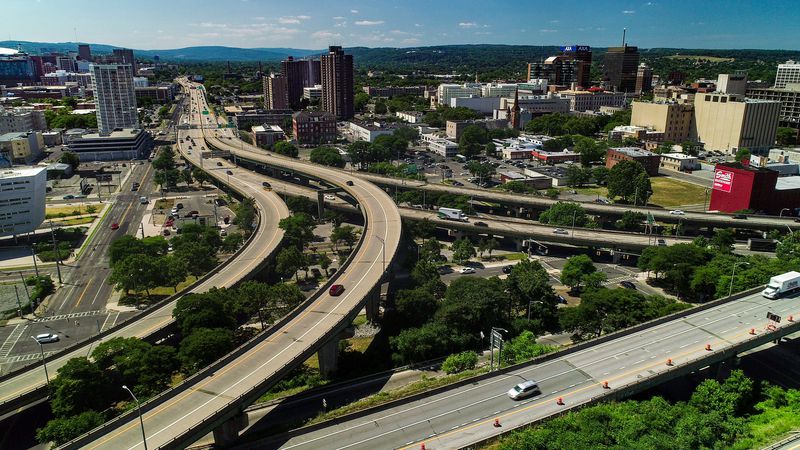 I-81 and I-690 interchange at Burnett Ave and McBride Drive looking South down I-81. July 20, 2018. Photo credit: N. Scott Trimble / Syracuse.com.
As these detrimental impacts of policies have been more broadly recognized, many cities and states (as in the case of New York) have begun the process of reimagining the relationship between their roadways and residents. Deputy Mayor Owens reflected on how more than a decade of discussion, debate, and ongoing community input have led to this "critical moment" in Syracuse. In particular, Owens pointed out the multifaceted and significant challenges of projects like the I-81 Viaduct as cities must not only reimagine their roadways, they must address historical inequities in doing so, plan for the logistics of highway development, and continuously communicate how that development will impact the day-to-day lives of the people that live and work around it. She further emphasized the importance of incorporating community stakeholders in every aspect of the project, including local hire provisions, improving green spaces, and prospectively addressing health impacts of the project. In addition to incorporating local bids for the smaller portions of the project, Mark Frechette noted that he expects job creation related to the project to lead to added value in the community, where each dollar of Department of Transportation project funding will run through the local economy at least four times.
Beyond addressing historical inequities, panelists noted how the current project should and will improve upon environmental health and justice. Frechette discussed the important protections built into the project. While the project proposal includes some commercial property acquisition to facilitate the expansion of the Community Grid, which will disperse existing I-81 traffic across local streets, no residents or residential property will be displaced. He also underscored the multi-faceted protections in place to reduce the environmental and health impacts of the project. These include:
lead and asbestos abatement prior to demolition to mitigate aerosolization of toxic materials,
noise walls to limit local noise pollution, and
separating sanitary and stormwater runoff to limit the impact on the wetland and wildlife ecology of nearby Onondaga Lake.
Professor Teron provided additional context through an environmental justice lens of the I-81 Viaduct Project. Teron highlighted the "cumulative threats" that have affected the community around I-81. For example, in addition to the traffic-related air pollution, the exhaust from a nearby plant further exacerbates the poor air quality in the neighborhood adjacent to I-81. Teron further pointed out the economic burden borne by the community, where, despite bearing these environmental burdens, few immediate community members may benefit from the employment opportunities created. He stressed the importance of not only addressing the impacts of the I-81 Viaduct Project and similar projects across the country, but meaningfully including adjacent residents across the entire breadth of the project and in decision-making processes to ensure restorative justice for historically affected and marginalized populations.
Perhaps the most salient portion of the webinar came in the closing comments from Deputy Mayor Owens and Professor Teron. Teron highlighted the salience of Syracuse as an example for other cities planning for similar highway projects, "this is the most important transportation environmental project in the United States today. Let's make sure we get it right." Owens reiterated that, "the moment has arrived…constructing a[n] infrastructure project we can be proud of while at the same time caring for the people who not just drive on it but live around it."
ABOUT THE AUTHOR
Auyon Ghosh is a Richard P. Nathan public policy fellow at the Rockefeller Institute of Government and an assistant professor of medicine in the Division of Pulmonary, Critical Care, and Sleep Medicine at SUNY Upstate Medical University.