Community colleges enhance access to higher education for millions of students through low tuition and broad admission policies, support their communities through continuing education and other service programs, and contribute to economic development by providing job training and partnering with regional employers. These institutions play a unique role in higher education, in their local economy, and in social policy.
The federal government has supported community colleges in various ways throughout history. From the Truman Commission's call for the expansion of community colleges in 1947 through more recent federal investments in community college workforce programs, the US government's policy on community colleges has helped to shape the role and trajectory of these institutions. Echoing current policies of about half of the states, President Joseph R. Biden called for tuition-free community college first on the campaign trail, then as he attempted to win the support of Congress for his plan, again during his 2023 State of the Union address, and finally in his proposed budget for federal fiscal year (FFY) 2024.
At a time when community college enrollments have dropped across the nation and in New York and institutions have reduced staff and payroll, it is useful to understand how federal policy has affected community colleges in the past and how federal policy could support community colleges in the future.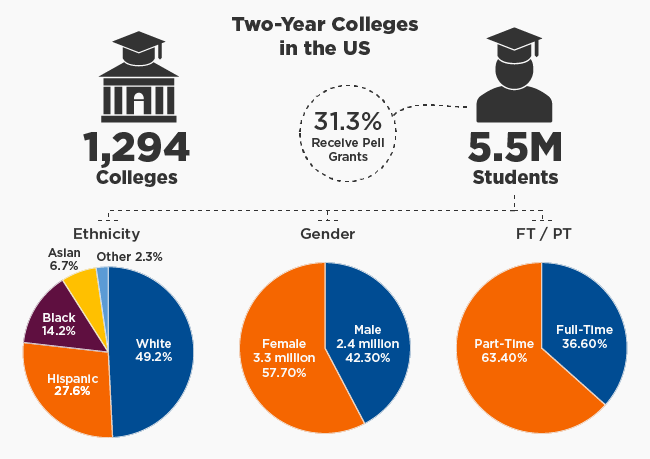 SOURCE: Number of colleges (2021), Statista; Ethnicity (2020), Statista; Gender and FT status (estimated; 2022), National Center for Education Statistics; Pell Grant (2020), National Center for Education Statistics. At least two-year but less than four-year institutions.
President Biden's Tuition-Free Community College Proposal
President Biden and First Lady Dr. Jill Biden, an instructor for 15 years at a community college in Delaware, have been long-time supporters of community colleges. As a presidential candidate, Biden campaigned on a tuition-free community college policy, and then as president, in April 2021, Biden proposed a policy that would have made two years of community college tuition-free through the American Families Plan, which the White House unveiled as a component of the Build Back Better initiative. As part of a broader investment in education from early childhood through postsecondary education, Biden's plan would have created a partnership between the federal government and states whereby federal funding would cover three-quarters of community college tuition, with state funds making up the last quarter, so that tuition would be free for students and their families. Observers noted the policy had the potential to dramatically increase access to higher education for lower-income students. Also, by shifting the burden of tuition away from students and toward the state and federal governments, supporters argued that the policy would reduce students' reliance on loans to finance their education. The plan received praise from higher education associations, such as the American Association of State Colleges and Universities and the American Association of Community Colleges, as well as other supporters.
The policy also had its critics. Some argued that the federal-state partnership model requires a state government to participate and pay tens of millions of dollars in order for that state's community colleges to be tuition-free, but there is no guarantee that state participation would actually happen. Indeed, many states may have chosen not to do so, as was the case with the Affordable Care Act's Medicaid expansion, which similarly made use of a federal-state partnership. Moreover, some opponents of Biden's policy disagreed with its underlying philosophy that college should be free, arguing that students will put more effort into their postsecondary education if they are paying at least something for it. Others argued that the tuition-free policy should not apply to all students but only to those with low family income. Ultimately, President Biden's free community college plan was removed from the Build Back Better agenda, did not make its way into federal spending legislation in 2021 or 2022, and has not become law. After signaling he was not done pushing for the plan in his January 2023 State of the Union address, President Biden included the $90 billion plan in his proposed FFY 2024 budget, which observers say is still not likely to win the approval of a politically divided Congress, while also including a proposed $500 million discretionary grant program that will allow states and community colleges to apply for funds to make programs that lead to transfers to four-year institutions or jobs in high-demand industries tuition-free.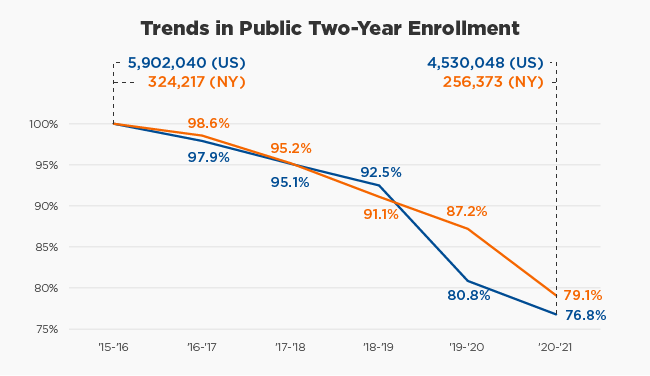 SOURCE: NY enrollment, New York State Education Department; US enrollment, National Center for Education Statistics.
Federal Policy Tools and Community Colleges
Two of the main policy tools at the federal government's disposal to address community colleges are direct funding and federal-state partnerships.
Direct funding occurs when the federal government provides grants, payments, appropriations, or financial aid directly to a community college. Such funding occurs in a wide variety of contexts, often in the form of student financial aid, veterans' benefits, and research funding, frequently following a competitive call for proposals or requiring that certain conditions be met. During the COVID-19 pandemic, community colleges were among the types of higher education institutions that received emergency financial relief through the CARES Act and other federal stimulus bills.
Some community colleges that are recognized as Minority-Serving Institutions (MSIs) receive direct appropriations from the federal government through Titles III and V of the Higher Education Act, too. New York community colleges that receive funding under these titles include SUNY Schenectady, Nassau Community College, SUNY Orange, SUNY Rockland, and SUNY Westchester. Numerous other federally funded programs aid community colleges all over the country, including in New York. Some of the most notable ones pointed out by the American Association of Community Colleges are the TRIO programs aimed at promoting student success (funded through the Higher Education Act), career and technical education programs (funded through the Carl D. Perkins Career and Technical Education Act), child care programs (funded through the Child Care Access Means Parents in School Act), and various federally funded workforce development programs.
The second major tool the federal government uses to effectuate its policy on community colleges are federal-state partnerships. As I wrote in a 2021 report for the Rockefeller Institute of Government, such partnerships are broadly conceived as "collaborations between the federal government and states to create or implement policy." These partnerships could be direct relationships between states and the federal government, or they could be indirect, as when the federal government's relationship with another entity indirectly influences states and prompts them to act. Partnerships with the federal government could primarily involve regulation, or they could primarily involve funding, although the receipt of federal funding is often conditioned upon adhering to federal regulations. Based on these relationships, I created a taxonomy of federal-state higher education partnerships depicted in the following matrix: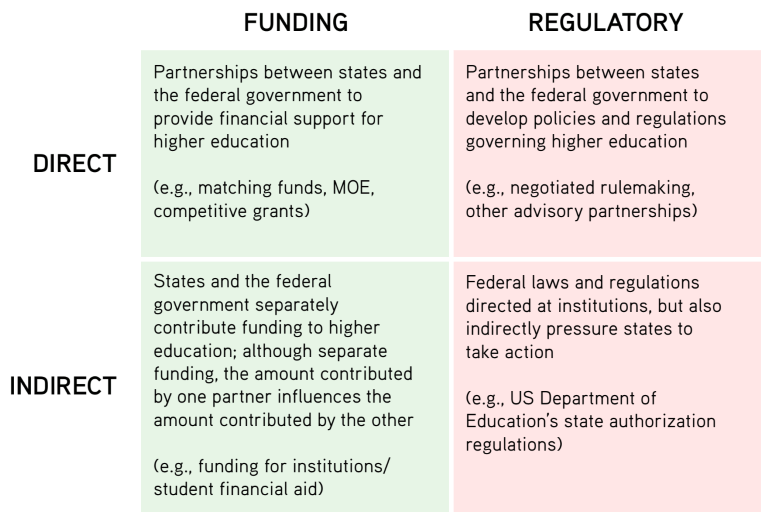 SOURCE: "A Framework for Understanding Federal-State Partnerships for Higher Education," Rockefeller Institute of Government.
Federal policy on community colleges has existed within and across each of these categories of federal-state partnerships. An example of a direct-funding partnership affecting community colleges is the maintenance-of-effort provision in the American Recovery and Reinvestment Act of 2009, which required states to maintain their public funding for higher education at a certain amount or risk losing the federal portion of that funding. President Biden's proposal for tuition-free community college also would have made use of a maintenance-of-effort provision to incentivize states to contribute funding to the effort.
An indirect-funding partnership is the separate funding provided by the federal and state governments (and other entities) to colleges as part of institutional revenue streams. These are not direct partnerships, as each entity's funding of institutions is independent; however, these funding streams influence each other. For example, as Sandy Baum of the Urban Institute has written, a state government's decision to rely more heavily on tuition as a form of public university revenue can "dampen the effectiveness of federal need-based aid in making college financially accessible."
A direct-regulatory partnership between states and the federal government involves these entities working together to develop federal policy regarding higher education. These partnerships are sometimes advisory, as when President Barack Obama convened a White House Summit on Community Colleges, in which federal and state officials, representatives of community colleges, and others met to discuss and make recommendations for how to improve community college success. Community colleges in the State University of New York system who participated in that summit were Monroe Community College, SUNY Erie, and SUNY Rockland.
Finally, indirect-regulatory partnerships occur when the federal government regulates higher education institutions and the regulation indirectly impacts states, leading them to take action in some way. An example of this was when the US Department of Education issued its "state authorization" regulation, requiring institutions—including community colleges—to be duly authorized in every state in which the institution enrolls students. Although the federal rule regulated institutions and not states, the regulation prompted many states to change their authorization policies by signing onto the State Authorization Reciprocity Agreement, which made it easier for institutions to enroll students in other states.

SOURCE: National Center for Education Statistics.
College Costs in the US (2021)
| | | | | |
| --- | --- | --- | --- | --- |
| | Public 2-Year (In-district) | Public 4-Year (In-state) | Public 4-Year (Non-resident) | Private 4-Year |
| Tuition | $3,800 | $10,740 | $27,560 | $38,070 |
| Room & board | $9,330 | $11,950 | $11,950 | $13,620 |
| Books & supplies | $1,460 | $1,240 | $1,240 | $1,240 |
| Transportation | $1,840 | $1,230 | $1,230 | $1,060 |
| Other expenses | $2,400 | $2,170 | $2,170 | $1,810 |
| TOTAL COST  | $18,830 | $27,330 | $44,150 | $55,800 |
SOURCE: The College Board.
Federal Policies Affecting Community College Funding & Tuition
Although there are numerous federal laws and regulations that affect community college funding and tuition, several federal policies are particularly impactful. One is the Higher Education Act, which arguably is the most significant federal policy for the entire higher education sector. Millions of college students each year receive federal student financial aid under Title IV of the Higher Education Act, including more than $10 billion to over three million Pell Grant recipients who attend community colleges. Also, as described above, community colleges that are recognized by the federal government as MSIs receive additional funding through Titles III and V of the Higher Education Act, and included among these are several community colleges in New York. The Act also authorizes TRIO programs aimed at promoting student success, such as the Student Support Services program at SUNY Schenectady and the Upward Bound program at SUNY Adirondack.
Another significant federal policy for community colleges is the Carl D. Perkins Career and Technical Education Act (Perkins). Most recently reauthorized as the Strengthening Career and Technical Education for the 21st Century Act, Perkins provides funding to support technical and career education at the secondary and postsecondary levels. Community college programs focused on career and technical education, as well as students enrolled in those programs, often benefit from federal Perkins funds. For example, SUNY Orange uses Perkins funding to promote student knowledge of financial aid and finances, for career coaching, and for technology to help students hone their reading and writing skills.
The Workforce Innovation and Opportunity Act (WIOA) is an example of a federal-state partnership that also involves local government entities. This Act provides federal support for workforce development programs that advance the skills of job seekers and align with the workforce needs of employers. WIOA provides funding to many community college workforce development programs, including the Gaining Occupational Academic and Leadership Skills (GOALS) program at SUNY's Niagara County Community College. This program provides young people with skills training useful in a variety of jobs, including hospitality, pharmacy technician, and medical billing.
The Trade Adjustment Assistance Community College and Career Training (TAACCCT) Grant Program, administered by the US Department of Labor, provided federal funding to community colleges in every state to develop short-term programs for the purpose of updating workforce skills in fields such as healthcare, energy, information technology, and more. The TAACCCT program also funded researchers to conduct evaluations of these programs. Between 2011 and 2018, nearly $2 billion in TAACCCT funding went to over 700 community colleges across the country. In New York State, TAACCCT has provided more than $40 million across dozens of community colleges, with more than 30 new programs launched to serve more than 10,000 participants, according to Department of Labor data. Although the TAACCCT program stopped issuing grants in 2018, there has been talk of revitalizing the program more recently, and the program was quite impactful for community colleges and community college researchers.
Finally, the Strengthening Community Colleges Training Grants Program provides funding to community colleges for the purpose of assisting students from underserved communities to develop job-relevant skills through technical and career education programs. According to the US Department of Labor, which administers the program, in February 2023, approximately $50 million was provided to 15 community colleges in the third round of grant funding. Community colleges in New York have benefitted from this federal program; in September 2022 (the second round of funding provided under this grant), for example, a group of community colleges in upstate New York, led by SUNY Onondaga, was awarded $5 million to prepare students for careers in the health professions.
Conclusion
Though community colleges are distinctly local entities designed to provide education and other services to their surrounding communities, federal policy has supported and transformed community colleges in a variety of important ways, through direct funding to regulation-driven reforms and more. As federal and state-level policymakers continue to consider policies to reform community colleges, make them more accessible, and promote their students' success, it is useful to understand how federal policy has and could be used for the advancement of those goals in New York and across the country.
ABOUT THE AUTHOR
Rebecca Natow is a fellow at the Rockefeller Institute of Government and an assistant professor of educational leadership & policy at Hofstra University