Meet the Researcher:
LAURA SCHULTZ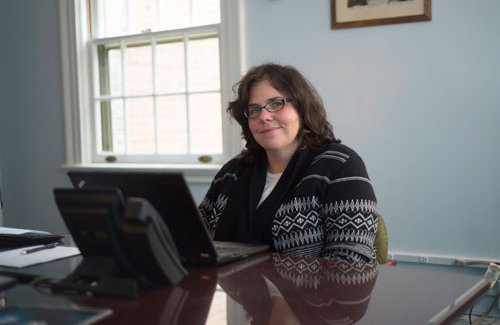 Dr. Laura Schultz is the director of fiscal analysis & senior economist at the Rockefeller Institute.
She has an extensive research portfolio studying how innovation creates economic opportunity. While at the Bureau of Economic Analysis, she developed measures used to assess levels of innovation in the US economy and their contribution to gross domestic product. As a faculty member at SUNY Polytechnic Institute, she worked with collegiate entrepreneurs as a commercialization adviser to guide them through the early stages of validation and venture formation. She has studied how university and state policies can foster or hinder an entrepreneurial ecosystem. At the Rockefeller Institute, she explores how state and local governments can support innovation and generate economic growth. As director of fiscal analysis, Dr. Schultz evaluates the fiscal and economic impacts of federal, state, and local policies and emerging economic trends. She is working to develop new channels to communicate her team's research findings to a broader audience through blog posts, interactive data visualization tools, and podcasts.
---
Q: What are the most interesting or important research projects you've worked on in the past year or so? What are the main questions you're trying to answer and how are you trying to answer them?
I am working with a team from the Rockefeller Institute to measure the role graduates of SUNY institutions play in the New York State economy. The project has a huge scope, but I have become fascinated by the geographic factors. I want to understand how colleges influence population movement of incoming students, graduates, and employees throughout the state. My area of expertise is technology transfer and economic development. So I am trying to understand how all of the colleges in the SUNY system engage with their local industries and how the graduates of the institutions and the academic programs attract businesses to the regional economies.
As a professor at SUNY Polytechnic Institute, I created the New York Business Plan Competition. It is a statewide initiative that gives students the opportunity develop ventures and pitch their ideas to investors to win seed funding to help them start. The program is designed to give students applied learning experience in entrepreneurship and support emerging entrepreneurs and innovations from New York's colleges and universities. My research project has tracked the 437 teams and 1,137 students who have participated to date to learn more about the collegiate entrepreneurs and how academic spinoffs grow. The project has provided insights on the backgrounds and academic interests of collegiate entrepreneurs and the support universities provide them. The findings can help reshape entrepreneurship education and technology transfer policies.
Q: What is the potential significance for public policy, government, or public well-being of your work? What do you hope will result from your research?
My research can help regional governments build strategies for technology-based economic development. Effective policy includes investment in research infrastructure, developing a critical mass of innovators in a related topic, creating workforce training programs for workers at all levels, and incentives to attract firms at all levels of the supply chain. Then once this investment is made, stakeholders must encourage collaboration and coordination between all parties. Too often governments build an expensive laboratory and expect economic growth to follow. I hope that my work can help regional governments develop more comprehensive strategies.
Q: What do you most enjoy about doing research? For example, developing a research idea and design, writing proposals, collecting data, reading others' research, interviewing people, analyzing data, writing findings, presenting results, or something else?
I have always loved numbers and to this day I get excited on days I get to play with data. I like to develop metrics to track emerging technologies. I am also fascinated with effective communication. These days I am experimenting with new ways to visualize data to better illustrate my findings. I am always playing with the latest and greatest software.
Q: In your career as a whole, what is the work you're most proud of? What is the work you most enjoyed doing?
I am a commercialization advisor for the startup companies that form at SUNY Poly. I work with students who have invented a technology and are trying to figure out what to do with it. I teach them how to do market research, communicate with investors and stakeholders, and network with potential customers. I have helped launch a handful of successful startups that have gone on to raise millions in investment and revenues. I have also helped dozens of students who have decided entrepreneurship wasn't for them, but who have taken the lessons they have learned to launch successful careers in industry. I am most proud when I see the leaders that they have become.
Q: What are your favorite activities, hobbies, or interests outside of your work at the Institute?
I am an avid traveler (50 states, 18 countries, and 5 continents). Now that I have a toddler, I am taking a break from international flights and enthusiastically revisiting the favorites from my youth that are a little closer to home.
Q: What is your unique idea for an app, a start-up, or a product that the world (perhaps unknowingly) needs?
Over the years, I have mentored hundreds of young entrepreneurs as they worked to bring their ideas to market. I just haven't found the idea that has inspired me personally. But when it arrives, I will definitely put my money where my mouth is and become an entrepreneur myself.