Meet the Researcher:
KATIE ZUBER
Dr. Katie Zuber is the assistant director for policy and research at the Rockefeller Institute and executive director of the Institute's Center for Law & Policy Solutions.
Her research examines the role of law in collective struggle, with an emphasis on legal advocacy among sexual and gender minorities. She has worked on several collaborative projects featured in Law & Society Review, Justice System Journal, Political Communication, and Journal of Political Marketing. Most recently, she has taught as a visiting professor in the Department of Political Science at Skidmore College, as well as at Union College and Vassar College. Dr. Zuber received her doctorate in political science from the University at Albany in 2017.
---
Q: What are the most interesting or important research projects you've worked on in the past year or so? What are the main questions you're trying to answer and how are you trying to answer them?
There are two projects I'm really excited about.
First, I am working on an in-depth study of the opioid crisis with several members of the Rockefeller Institute including Patty Strach, director for policy and research, and Visiting Fellow Elizabeth Pérez-Chiqués. Even though the opioid crisis has been declared a public health emergency, it is experienced and addressed by local communities. Thus, we want to know: how does opioid abuse affect local communities, what are local communities doing to respond, and what do they need from state and federal policymakers to effectively address the problem. Our approach is somewhat different because, rather than crunch numbers to analyze the size and scope of the problem, we have (to the best of our abilities) embedded ourselves in local communities to gain a better understanding of what they are up against. In November 2017, we started in a small upstate, rural community known as Sullivan County and are in the process of expanding our research into surrounding urban and suburban counties. We have conducted more than 115 interviews, attended several task force meetings and community forums, and toured two local treatment centers. The experience has been eye-opening to say the least.
Second, as executive director of the Rockefeller Institute's Center for Law & Policy Solutions, I also oversee an undergraduate internship program designed to give students a firm grounding in the use of data in the policymaking process. The internship is unique because students are paid for their work in addition to earning course credit — which is relatively uncommon at this point in their academic careers. Each semester, the Center welcomes a new cohort of students who develop their research and writing skills under the direct guidance and supervision of our expert researchers. In the spring and fall of 2018, respectively, students examined the utility of drug courts as an alternative to incarceration in the context of the opioid crisis and explored the consequences for women's reproductive freedom in New York State if Roe v. Wade is overturned. This semester, students are conducting an implementation evaluation of postsecondary correctional education to better understand how successful college-in-prison programs operate and what role the State University of New York can play in their continued development and expansion. Overall, the internship provides students with a unique opportunity to study important social justice issues through the lens of public policy and analysis.
Q: What is the potential significance for public policy, government, or public well-being of your work? What do you hope will result from your research?
By taking a bottom-up approach to the study of public policy issues, my research can help inform policymakers about the nature of the problems they seek to address. In fact, one of the most interesting findings to emerge from our study of the opioid crisis is that well-intentioned policies put in place by government officials to ameliorate a problem can in fact make it worse. In order to be effective, lawmakers must devise polices based on an accurate and informed understanding of the problem.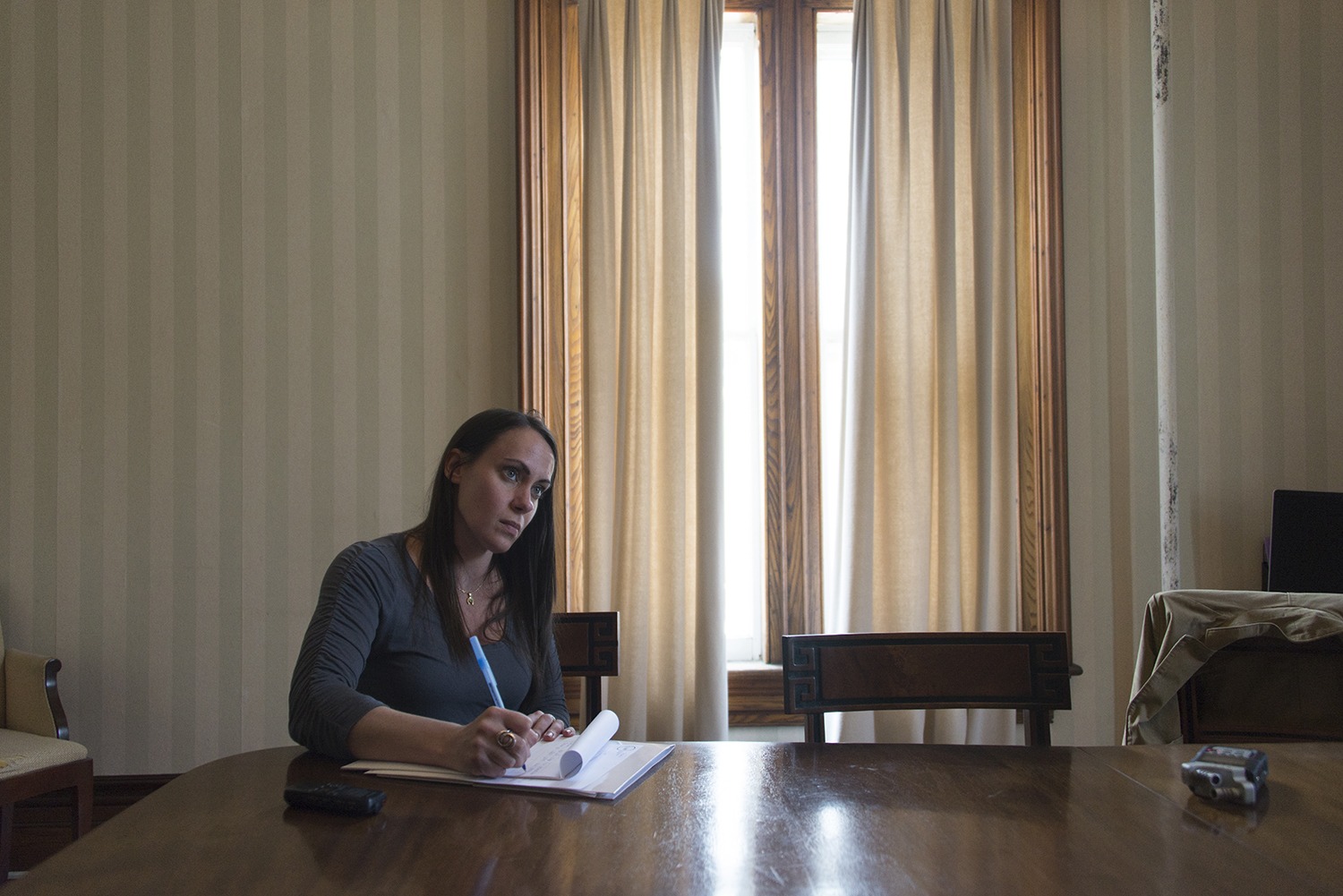 Dr. Katie Zuber interviews people recovering from substance abuse
disorders for the Stories from Sullivan project.
Q: What do you enjoy most about doing research?
Talking to people. When we first went down to Sullivan County, we had no idea what to expect. But just by having conversations with people (over coffee, in their living rooms, at the kitchen table, on the road, and in their offices), we learned a lot about what local communities are up against, the challenges they face, and the actions they take to fight back against what seems like an intractable problem. Most striking is the fact that what seemed obvious to folks on the frontlines (like the lack of transportation making it difficult not only to get to treatment but to find work, pick up prescriptions, and go to the grocery store) was surprising to us. Which is the other thing I love about doing research. Just when you think you've cracked the case or solved the puzzle, your entire way of thinking can change from a single interview or article. It's a process of continuous learning and it's exciting. Sometimes, when we're driving from interview to interview, the three of us will look at each other and say: "Can you believe we get paid for this?"
Q: In your career, what is the work you're most proud of?
In addition to doing research, I have always enjoyed teaching young people about the inner workings of the political system. I've taught classes in American politics at Skidmore, Union, and Vassar Colleges. In approaching the classroom, I try to expose students to diverse viewpoints; empower them to think critically about political phenomenon; and introduce them to critical perspectives on law and society. It's rewarding when you see the light bulb turn on and students begin to understand and see the world of politics differently.
That's one of the reasons it's been so rewarding to work with students from the University at Albany through the CLPS internship program. We actively seek out students who stand to benefit from the experience, rather than taking the A+ student with two or three internships already under their belt. We've hired dog breeders, pizza delivery drivers, and other folks who have no real policy experience but who excel at the work they're asked to do. I am always impressed not only by the caliber of the research that they do, but by their ability to come together as a team. It never ceases to amaze me how much a small cohort of undergraduates can accomplish, especially in the last few weeks of semester. Following passage of the Reproductive Health Act, CLPS interns were invited to attend a reception at the governor's mansion as a result of their research on reproductive healthcare. They've presented their findings at academic conferences and public forums and received media coverage of their research — which is something even the most polished of researchers aspires to accomplish.
Q: Favorite activities outside of work?
I love spending time with my family, especially my two nephews Owen and Eli. I also enjoy reading, but my family always insists that still counts as work because I'll be on the beach reading Rainbow Rights and The New Jim Crow, not Fifty Shades of Gray.
---